Banana Flower Chutney ( Udupi Heirloom Recipe)
Banana blossom chutney is an heirloom recipe of my husband's native place , Udupi in Karnataka. I recently got banana blossom from an Indian store and I was discussing with my mother in law about the recipes she prepares from this flower . She told me that she prepares spicy chutney from it which is prepared with the banana blossom bracts, flavored with coriander, coconut, sesame seeds, tamarind and green chillies and tempered with mustard seeds, black gram lentils and fresh curry leaves. I decided to give a try to this healthy, nutritional and rich in fiber banana blossom chutney and it turned out absolutely delicious. You can serve this condiment with dosa or as a side dish with lunch and dinner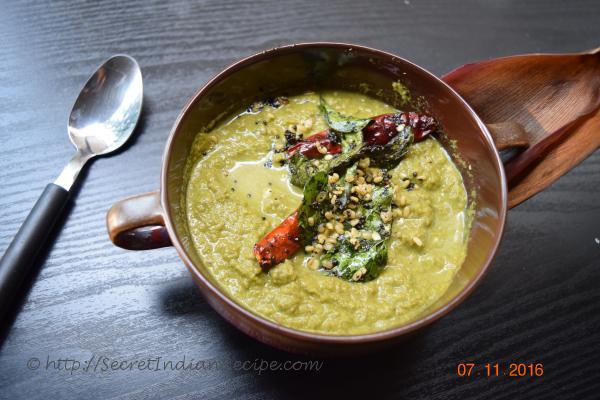 Ingredients:
1 cup chopped Banana blossom bracts
1 tbsp Tamarind paste soaked in 1 cup water
2 tbsp grated Coconut
1/2 cup fresh Coriander leaves
5-8 Green Chillies(adjust as per taste)
1/2 knob Ginger roughly chopped
1 tsp Sesame seeds
Salt as per taste
For Tempering:
1 tsp Mustard oil or Coconut oil or any cooking oil
1/2 tsp Mustard seeds
1 tsp Urad dal (split and dehusked black gram lentils)
7-8 fresh Curry leaves
2 dry Red chillies
Directions:
Add the chopped banana blossom bracts into a medium size container . Remove the tamarind pulp and add the tamarind juice into the container. Add just enough water to level the banana blossom bracts. Cook the container on medium heat till the bracts are soft and cooked. Allow the container to cool down to room temperature.
Dry roast the sesame seeds. Keep it aside.
In a mixer or food processor, add quarter cup of water, coconut, ginger, fresh coriander, green chillies, roasted sesame seeds and salt as required.
Take out the cooked banana blossom bracts using a slotted spoon and add it to the mixer. Do not throw away the tamarind juice in the container. Add a quarter cup of the tamarind juice or little more as required into the mixer. Process the mixer 3-4 times and grind it into a smooth paste. Take out the ground mixture in a steel bowl or microwave safe bowl.
Prepare the tempering . Heat a pan and add oil into it. When the oil is hot, add the mustard seeds. When the seeds stop cracking, add the urad dal, fresh curry leaves and dry red chillies. Saute on low flame till the lentil turns light golden.
Add the tempering into the chutney bowl. Stir and mix. The banana blossom chutney is ready. Serve it with dosa or as a side dish with lunch or dinner.
Footnotes:
When using banana blossom for cooking,discard some of the outer bracts and take the inner fresh bracts for chutney. Wash and clean it with cold water properly and then chop it into chunks.