Banana Flower With Potatoes
Banana flower has high content of iron. Eating banana flower is good for children and women. Here is a simple recipe which has banana flower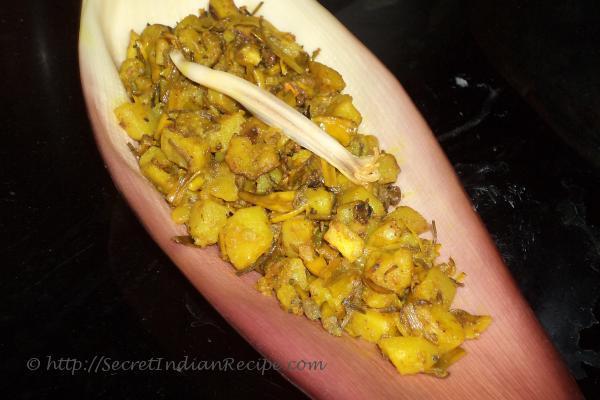 Ingredients:
Banana Flower-250 gm
Cumin seeds- 1/2 tablespoon
Oil-7 tablespoon
Salt to taste
Turmeric powder-1/2 tablespoon
Green chilli - 1/2 tablespoon
Tomato puree-1 tablespoon
Garam Masala powder - 1/2 tablespoon
Chopped potato-100gm
Chopped coconut- 1 tablespoon
Directions:
In a large bowl chop the banaba flowers. Fill it with water. add 1/2 tablespoon of salt and turmeric powder and keep it aside for 3-4 hours. It helps to remove the stickiness from the banana flower.
In a pan heat 3 tablespoon oil. Add the banana flower and fry till it turns light brown. Take it out ans keep aside.
Pour remaining oil, add cumin seeds and green chillies. Let it crackle. Then add the potatoes. Fry the potatoes till it turns light brown.
Now add Turmeric powder, tomamto puree, fried banana flower, coconut ,salt and 4-5 tablespoon of water and mix well.
Cook on low heat till the vegetables are done. Add garam masala powder and cook for another 1-2 mintues. Serve with rice or chappati.