Bandh Gobi Ka Achar ( Indian Pickled Cabbage)
Attempting pickles the north Indian style was totally new to me until a year ago but it opened a whole new world of flavors for a pickle addict like me. Unlike the conventional lemon and mango which is expensive if not seasonal, there are a lot of options in perennial vegetables like cabbage for instance. This is the easiest pickle ever and the fact that you don't need to peel or core parts of this vegetable adds to its volume when you want to make huge quantities. The same recipe can be used for pickling onions.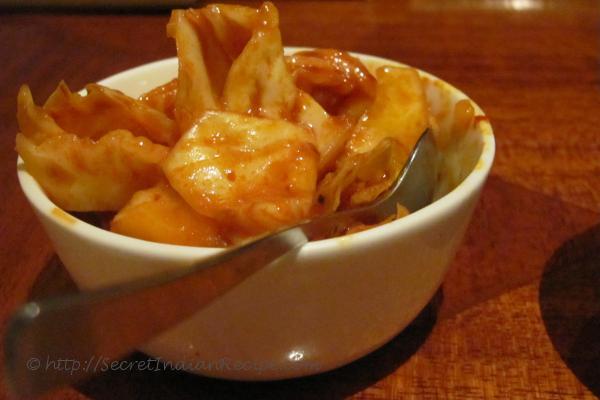 Ingredients:
Cabbage - 5 cups
Aniseed crushed- 2 tbsp
Fenugreek crushed- 2 tbsp
Split yellow mustard- 2 1/2 tbsp
Turmeric powder- 1/2 tsp
Chilli powder- 2 tsp
Salt- 2 tsp
Mustard oil- 200 ml
Vinegar- 5 tbsp
Asafoetida- 1 tsp
Directions:
Chop the cabbage into chunks. Wash them and then pat them dry. You can leave it spread on a newspaper for some time but ensure its completely dry.
Coarsely crush or powder aniseed, fenugreek and yellow mustard.You get split mustard and fenugreek seeds at shops but if you do not have access to these prepare them by coarsely crushing these spices.
Add vinegar and salt to the chopped cabbage and store in a plastic container with a lid for an hour.
After an hour add the coarsely crushed powders, asafoetida, chili and turmeric powder to the cabbage and let it sit on the counter top for a day.
Transfer the pickle to sterile jars the next day.
Heat the mustard oil in a pan and let it cool down. Pour it onto the pickle in jars.Keep the bottles in sunlight for a week before storing them in a cool place.
Footnotes:
See that oil tops the pickle this prevents it from getting spoilt.
The same recipe goes for pickling chilies as well as onion.