Bangalir Macher Jhol ( Bengali Fish Curry)
Fish has always been an integral part in the life of the Bengalis. This is a typical curry of fish associated in a Regular Lunch.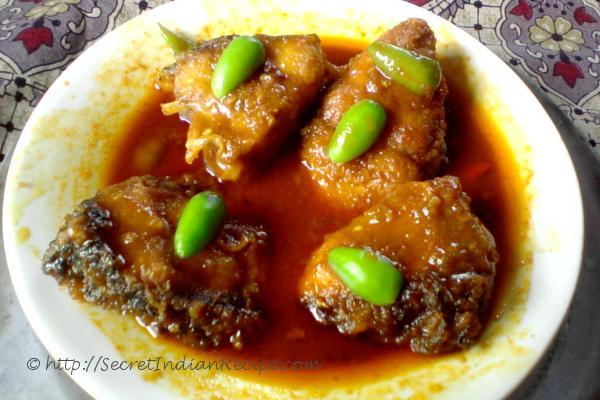 Ingredients:
Fish- 500g
Ginger+garlic paste- 5tsp
Onion paste- 5tsp
Cumin powder- 1tsp
Garam masala- 1/2tsp
Turmeric powder- 1/2tsp
Mustard oil- 100ml
Salt & Sugar- to taste
Curd- 3tablesp
Water- as required
Ghee- 1tsp
Kashmiri mirch- 2tsp
Split green chilli- 3-4pcs
Directions:
Marinate the fish with turmeric powder ad salt and fry it in the oil.
In the left over oil, add onion paste and cook for sometime.
When its fried, add the ginger & garlic paste and cook for few more minutes.
Now,add cumin powder,turmeric powder, kashmiri mirch, salt & sugar and mix well.
Then add the bitten curd and again mix well and cook for sometime, then add water.
When the mixture starts boiling add green chillies and fried fish pieces and cook for sometimes.
When the gravy becomes dense, add garam masala and ghee and turn off the oven.
Serve hot with plain rice.
Footnotes:
Add the split green chillies to the mixture to bring a unique flavor.
Other Indian Recipes that you may Like !