Bara Hua Turiya (stuffed Ridge Gourd)
I was in luck the other day. I went to buy my weekly veggies and I spotted these lovelies. Itty Bitty Ridge gourds :) I immediately decided to stuff them (yumm yumm) but was wondering, do I do prawn or chicken? Hmm. Chicken won. I love Love love little individual parcels of food. Don't ask why I just do :)
You can make this from regular sized ridge gourd too. Just cut five inch pieces and follow the same steps of hollowing out. Just be vigilant about the spoon or melon baller going through the bottom. If you process your veg before you make your filling, use the insides in the filling too. Nothing goes to waste then. The insides do tend to go brown if they are kept on the counter for too long, so be quick!
I hope you enjoy this recipe. I normally serve it with dal and a side of rice or roti and pickle. Let me know how you liked it :)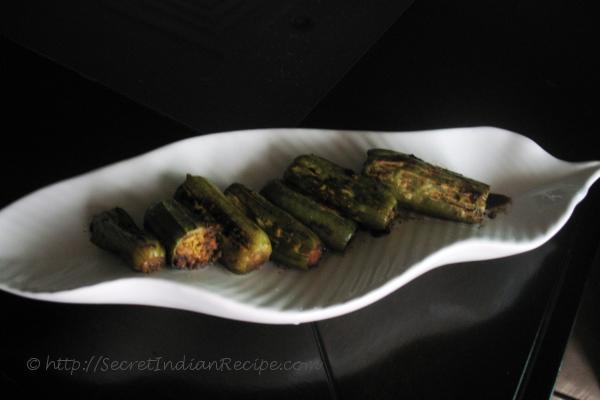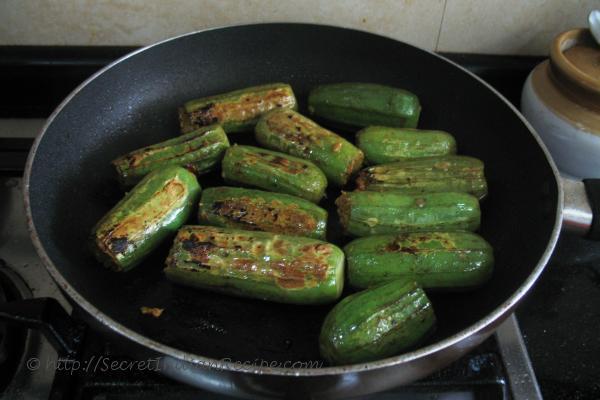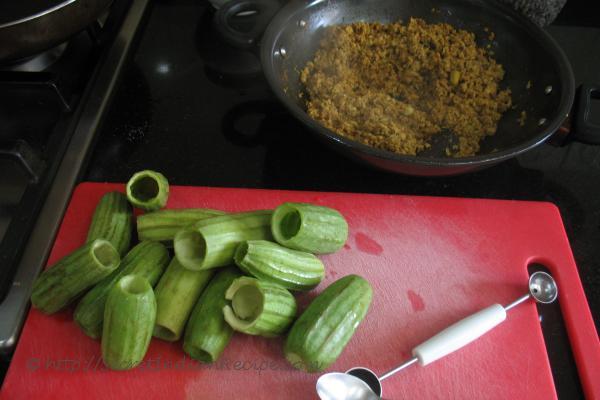 Ingredients:
1 kg mini Ridge Gourd, tops taken off and hollowed
1/2 kg Chicken Mince filling
1/2 cup Water
2 tbsp Oil
Salt to taste
For the Chicken Mince filling:
1/2 kg Chicken Mince
4 Cloves
1 inch Cinnamon
4 Peppercorns
1 tsp Turmeric Powder (Haldi)
2 tsp Coriander-cumin powder (dhanna jeera powder)
Salt to taste
2 Tomatoes
1 Large Onion
8 cloves Garlic
1/2 inch Ginger
1/2 tsp of Vinegar (optional)
Directions:
First make the filling by grinding the tomatoes, onion, ginger and garlic in a mixer.
Heat the oil in a pan. Fry the whole spices till they release their aroma.
Add the contents of the mixer and fry till the colour changes to a deeper red.
Then add the powdered masala and fry till the raw smell disappears.
Now add the Mince and cook till it is dry.
Salt to taste. You might want to add the vinegar now if you feel it needs a little zing. Totally up to you.
Let this cool while you process the Ridge gourd.
Cut off the tops of the ridge gourd and hollow them out carefully with a spoon or a melon baller. I use a melon baller (in the picture) just because it is easy for me. Be careful that you don't scrape all the way through the bottom.
You can use the insides of the ridge gourd in your filling as well if you process your veg in advance. Just cook it with your mince.
Now, gently, with a teaspoon, fill the gourds. Tap them gently so they are nice and full.
Heat some oil in a pan and when it is hot brown the gourd on all sides. When it is brown, add 1/2 cup of water to the pan and close it quickly. Let them cook in the steam.
Take the lid off after 2 minutes, they will be done. Sprinkle some salt to taste and Enjoy!