Batate Wada Homemade Style
Batate wada is well known Maharashtrian snack. You can find it in every nook and corner of Mumbai and thus it rarely prepared in any Mumbaikar's home. Here I am presenting the easiest way to cook it at home for people who live outside Mumbai and miss the Batate wada.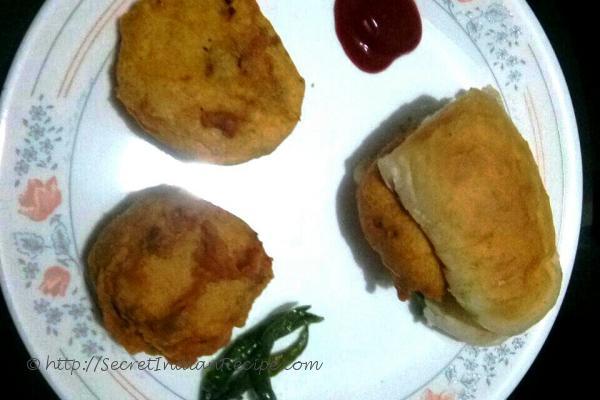 Ingredients:
Boiled Potatoes medium size- 6/8
Ginger garlic paste – 1 tablespoons
Green chillies – 2 chopped
Curry leaves - 8/10
Turmeric powder – ½ teaspoon
Salt – to taste
Lime juice - 2 teaspoon
Jeera (Cumin) seeds – ½ teaspoon
Mohri (Fennel) seeds – ½ teaspoon
Urad dal ( Black lentil) – ½ teaspoon
Besan (Gram flour) - 1/2 bowl table spoon
Oregano seeds -1/4 teaspoon
Rice flour – 2 tablespoons (not must ,though it gives crispness)
Oil - 1/4 litre for deep frying
Directions:
Cut boiled potatoes in small pieces.
In a pan put 1 tablespoon oil ,add cumin, fennel seeds, urad dal , chopped green chillies, curry leaves, ginger and garlic paste, cut potatoes, coriander leaves, lime juice ,salt and Turmeric. Mix well and cook till all the incorporated well. Let it cool a bit.
When cool make 3 inches flat pattice and keep aside
Take besan flour, rice flour, pinch of turmeric ,oregano seeds (ova) and mix with water to make a fine paste of semi thick consistency
Heat oil in kadai ,when really hot take a potato patice ,dip in besan batter and put in hot oil, after 1/2 min reduce flame to medium and turn the batate wada to the other side.
Remove and put on kitchen paper and remove excess oil.
Increase the flame and repeat ,make sure that flame is not too high as it will burn the batate wada. .Colour should be dark yellow.
Serve with pav , ,Indian bread and green chutney