Bathua Aur Sarson Ka Saag (pigweed And Mustard Leaves Saag)
It is a vegetarian side dish recipe with an unforgettable taste. Bathua is known as chill bhaji or pigweed. It is very high in calcium and iron. Sarson or mustard leaves are good source of iron and magnesium. The combination is thus not only awesome in terms of taste but also highly nutritious.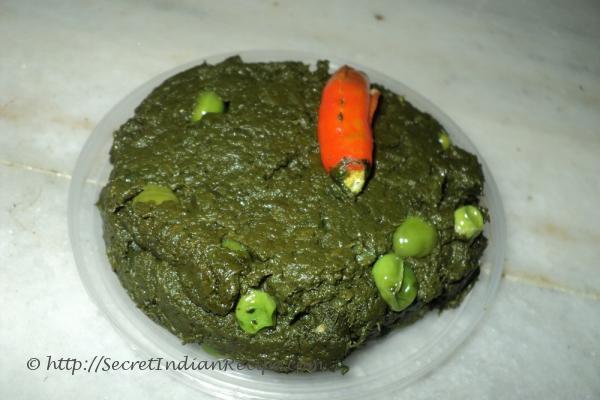 Ingredients:
Bathua saag (pigweed) 500 grams (18 ounce)
Sarson saag (mustard leaves) 250 grams (9 ounce)
Green coriander leaves 10 grams (1/2 ounce)
Green garlic 2 pieces
Green chillies 2 pieces
Mustard oil 4 tablespoon
Green peas 2 tablespoon
Salt ½ tablespoon
Directions:
Pluck the leaves of bathua saag and sarson saag and then wash them thoroughly. Drain excess water and then chop sarson saag. Bathua saag leaves are very small and hence does not require chopping.
Put both bathua and sarson in a karahi and cover the lid. Cook on low flame till they become tender. Stir in between.
Once the saag has become tender put off the gas and let it cool. Squeeze the saag to remove excess water. Grind the saag, green coriander, green garlic and chillies together.
Heat oil in a karahi and then pour the grounded saag ,peas and salt together. Mix well and put a lid on. Cook on low flame for about 5-6 mintues.
Stir in between. Once the peas are done remove it from the gas stove and serve with rice or makai ki roti.