Beef Kababs (beef Minced Grilled With Indian Herbs)
I don't know any other part in India where a lot of experiments happen with beef. Maybe North-East and Goa does. I have tasted a couple of kababs during the Iftar street food feast in Frazer town Bangalore too. Most of the times I found them a bit uncooked and I have had serious food poisoning. Back in Kerala especially in Cochin where I come from, there are authentic restaurants that have been serving food for 5 generations who make awesome kababs and biriyanis. Cochin has been a point of connection between the Middle East and other parts of India and hence has a lot of influence over the local cuisine. These kababs therefore taste quite similar to the ones in the Middle East. Perhaps the use of spices which the Arabs borrowed from Kerala is the common factor in these kababs.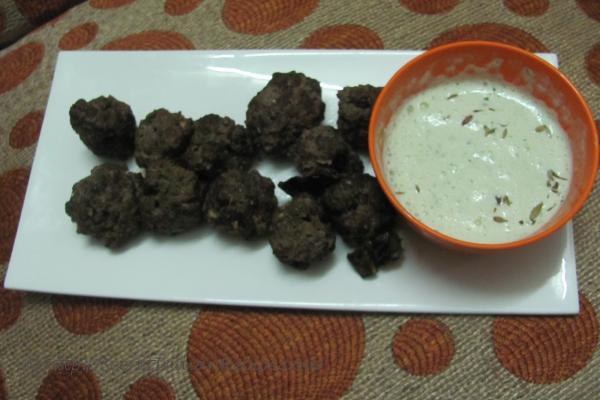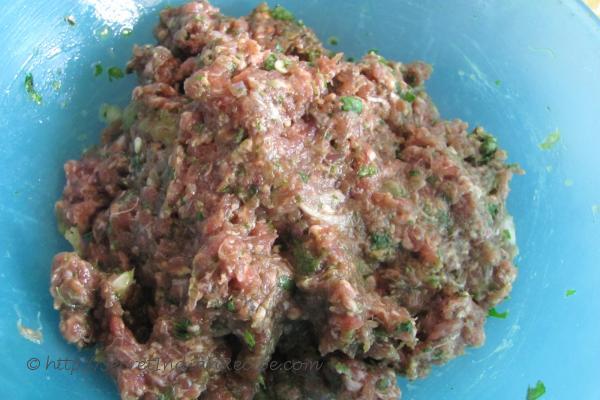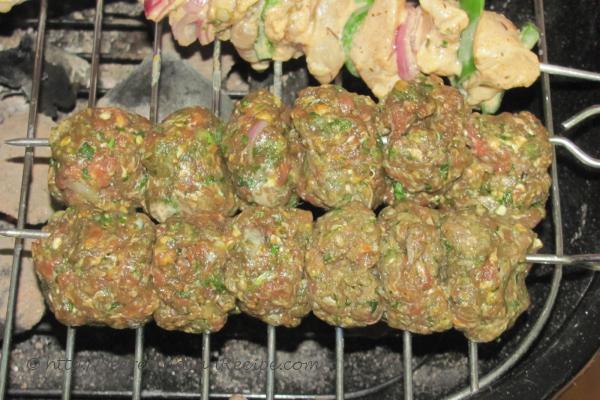 Ingredients:
Beef Mince- 500g
Minced onion- 1
Minced ginger- 2 tsp
Minced garlic- 2 tsp
Curd- 4 tbsp
Green chili paste- 1 tsp
Coriander powder- 1/2 tbsp
Garam masala- 1/2 tsp
Chili powder- 1 tsp
Turmeric powder- 1/2 tsp
Oil- for basting
Salt- to taste
Mint leaves- 1/4 cup
Coriander leaves- 1/2 cup
Egg- 1
Lemon juice- 3 tsp
Directions:
Mix all the ingredients except egg and oil and keep the mix covered for 1- 2 hours.
You can also refrigerate the mince for 30 minutes to make it stiff. After 30 minutes in the refrigerator take the mince out and add the whisked egg.
Egg helps in binding the ingredients. If you find the mince watery add a little maida, though I never had to do this.
I grilled this kabab on the barbecue but you can do it in the oven or microwave as well. The process of making these into the seekh kabab shape is a bit difficult.
But if you intend to do it use a plastic sheet with the help of which you can roll a patty like dollop of mince into rolls.
I just made balls and cooked on coals for 25 minutes. Before shaping the kababs wet your hand in water this helps shape it better.
Apply oil on top of the kababs and cook it. When one side of the kababs have browned turn over to the other side and cook it till both sides brown evenly. This can be done in the oven too.
If you are grilling in an oven or microwave oven, grill the kababs for 40 minutes. When its 20 minutes turn the kababs over to the other side and continue cooking for 20 minutes.
Footnotes:
Use raw papaya paste as meat tenderizer for soft kababs.
For the curd dip I used I hung the curd in a strainer for an hour and added salt, dill leaves, minced garlic along with pepper powder. It is an Arabic dip but goes well with kababs.
Cooking time varies from oven to oven so if you find the kababs browning too fast check if the inside is cooked and take it out of the over before the mentioned time.
Other Indian Recipes that you may Like !