Beef Ularthiyathu
A regular fare at most Keralite lunches and dinners. It is almost something a majority of Mallus cannot do without. No traditional Kerala meal is complete without a beef ularthiyathu. "Ularthiyathu" mean a slow stir fry. Traditionally, this used to be cooked in large hard bottomed copper uralis (a flat bottomed dish), atop wood fire. The meat would slowly cook in its juices and all the added spices and be left for hours on the embers.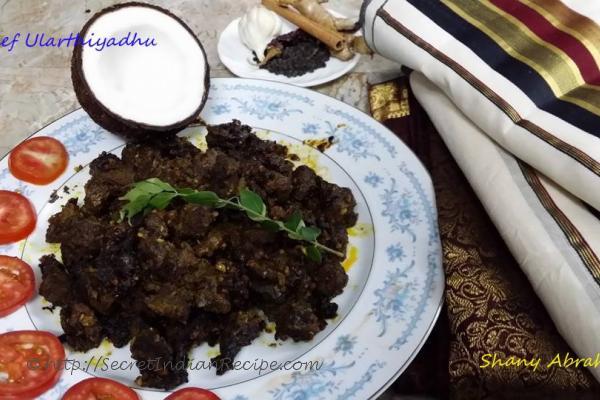 Ingredients:
Beef 1 kg , cut into bite sized cubes.
sliced shallots: 2-3 cups ( you can use regular onions too, if so use 4)
ginger: 2" piece chopped fine
garlic: a good handful, maybe 10-12 pods, chopped
curry leaves
coconut oil- 3 tbsp
cardamoms - 4
cinnamon stick- 1-2"
cloves-4
fennel seeds- 2 tsp
peppercorns- 1 tsp
Directions:
Cut the beef into bite sized cubes. Pressure cook this with salt and turmeric powder,1/2 tbsp of pepper and a tbsp of apple cider vinegar. Simmer it for 5-7 minutes after the whistle. We do not want it fully cooked.
Make a thick paste of 1 tbsp kashmiri chilli powder, 1 tbsp pepper, 2 tbsp coriander powder and 1 tsp turmeric powder. Set aside.
In an urali or a hard bottomed pan, heat the coconut oil and add the whole spices. When the aroma begins to waft, add the shallots and stir for a minute. Then add the ginger and garlic. This whole mixture should caramelise but be careful not to burn it. Add the paste and stir well till the colour changes.
Now add the partially cooked beef and stir well. Sear the meat and make sure the meat is well coated with the masalas. At this stage, check for the salt levels. If need be, add a bit of the juices left in the pressure pan. Keep it just about moist. We don't want a gravy. Cook on low flame for about half an hour. The cooking time depends on the quality of the beef. When totally done, you will see the colour as you see in the picture. Garnish with fresh curry leaves. Serve with hot rotis/ hot rice/appams/kappa (tapioca).
Other Indian Recipes that you may Like !