Beetachi Koshimbir (beetroot Curd Salad)
This is one of the many Maharashtrian side-dishes.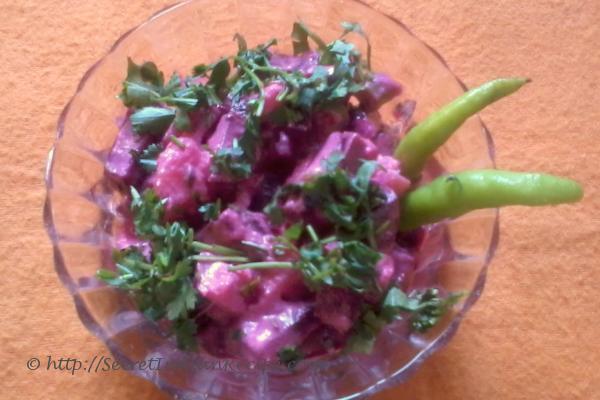 Ingredients:
2 beetroots
1 small potato
1/2 cup curd
1 tsp cumin seeds
1-2 chopped green chilles
2 tsp oil
salt to taste
pinch of sugar (optional)
coriander for garnish
Directions:
Cook the beetroot and potato in a pressure cooker. Then cut them into small cube like pieces.
Heat the oil, add cumin seeds and chillies and add this to the beetroots. Put salt to taste and pinch of sugar (if needed).
Add 1/2 a cup of curd to this mixture and mix it well. Garnish with coriander leaves.
Footnotes:
Its a very easy n quick recipe for a side-dish.