Beetroot Channa Poriyal (beetroot Chickpeas Stir Fry)
Beetroot is often limited to salads or sambar maybe cutlet. But this recipe makes the beetroot a star. This vegetable is often avoided for the muddy flavour. But with the pairing with chickpeas and coconut and the spices, you would not mind having this stir fry. It was a favourite back in my hostel days and paired with some moru curry and rice this curry taste yummy. Beetroot is good for your heart and if you don't have it in your regular diet, you must find ways to have it. Even for kids, introducing beetroot at a young age will ensure they don't neglect this vegetable. I mash this curry and feed it to my daughter with some curd rice; she loves the pink colour it gives to the rice and so happily has it without any fuss.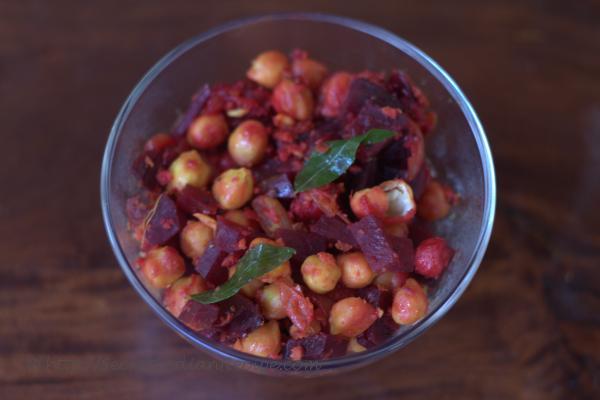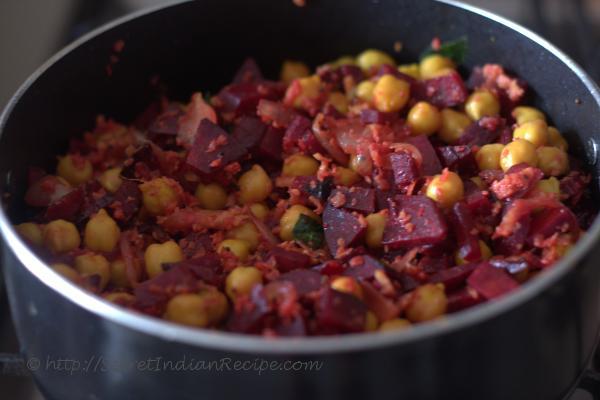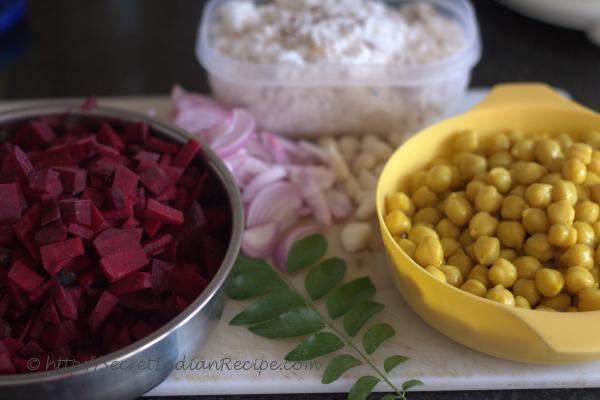 Ingredients:
Beetroot- 600 g
Chickpeas- 200 g
Onions- 2
Green Chilies- 2
Turmeric powder- 1/2 tsp
Garam masala- 1 tsp
Salt- to taste
Grated Coconut- 1/4 cup
Mustard seeds- 1 tsp
Coconut oil- 4 tsp
Curry leaves- 5-6
Cumin seeds- 1 tsp
Directions:
Soak the chickpeas overnight in 2 cups of water after washing it twice.
Pressure-cook the chickpeas the next morning with a pinch of salt and 2 cups of water up to 3 whistles.
Heat oil in a pan and add the mustard seeds and cumin seeds. As soon as the mustard seeds crackle, add curry leaves.
Roast the curry leaves for a minute before adding the diced onions and sliced green chilies. Saute till the onions soften.
After this add the turmeric powder, salt and garam masala. Saute for 2- 3 minutes and add the finely chopped beetroot.
Cook the beetroot covered with a lid for 5-8 minutes. Cook the beetroot under steam and add no water.
After 8 minutes, add the cooked chickpeas and give the curry a stir. Cover and cook for next 5- 8 minutes over low flame with the lid on.
After 8 minutes check if the beetroot has cooked adequately, if not cook further, else add grated coconut and give a thorough stir.
Cook for 2-3 minutes and you are ready to serve this poriyal with some rice.