Beetroot Kootucurry (mixed Vegetable Curry With Coconut Masala)
Kootucurry is a very user friendly curry with no rules. Anything can go into this curry but it's mostly tubers and lentils. The gravy however will be a ground paste of coconut and few spices again to be topped with some roasted coconut and an elaborate tempering. This is the kind of curry that gives you the feel of a temple feast or festival because this will be one of the curries served for auspicious banquets in Kerala. Since beetroot constitutes a great portion of this curry over other vegetables, lending it a pink colour this recipe is titled beetroot kootucurry. kootu means a friendship or a gang. This curry is made up with a gang of ingredients that blend with each other through the process of mashing them up and hence the name kootucurry.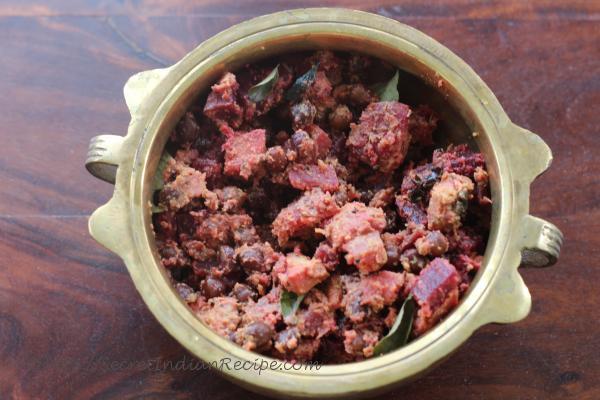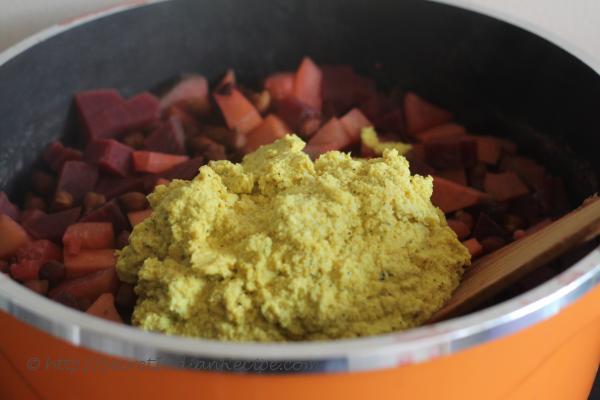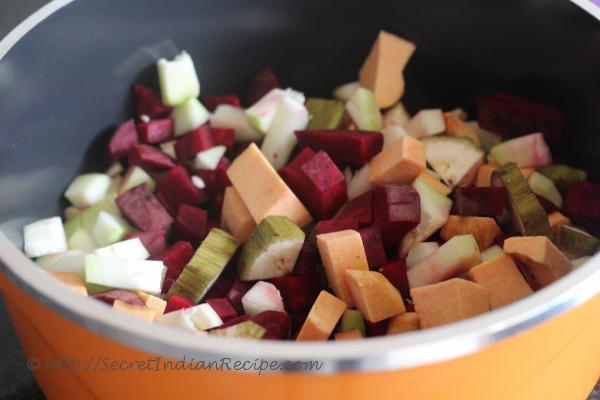 Ingredients:
Beetroot- 250g
Gram (kala chana)- 1/2 cup
Yam- 100 g
Raw banana- 100 g
Grated coconut- 1 1/2 cup
Green Chilies-3
Shallots- 1/2 cup
Garlic- 6 cloves
Turmeric powder- 1/2 tsp
Cumin seeds- 1 tsp
Mustard seeds- 1 tsp
Curry leaves- 2 sprig
Dry red chilies- 3
Coconut oil- 2 tbsp
Salt- to taste
Directions:
Soak the gram overnight in 2 cups of water after washing it twice. Pressure-cook the gram with 1 cup water up to a whistle.
Wash, peel and cube the vegetables and boil them with salt.
Meanwhile, make a paste by grinding 1 cup coconut, cumin seeds, green chilies, shallots, a pinch of turmeric and garlic.
Add this ground paste to the vegetables when they are half cooked and add the cooked gram too.
When the vegetables have cooked,mash the vegetables and gram thoroughly.
In a small pan roast the 1/2 cup coconut till it browns. Add it to the mashed veggies and check the salt levels.
See that the curry is thick and mushy and not watery. If not let it simmer till the water content evaporates.
For finishing this curry heat some coconut oil in a pan and add the mustard seeds. As soon as the mustard splutters, add dry chilies and curry leaves.
When the curry leaves and chilies are well roasted (do this on a low flame), pour the tempering over the kootucurry.
Serve as a side dish with rice.
Footnotes:
Pouring some more coconut oil on top of this curry, while serving makes it tasty.