Beetroot Masala Chaas / Lassi
Consuming the beetroot will help protect against certain cancers such as colon cancer, birth defects and heart diseases. They are rich in antioxidants. Have anti-inflammatory benefits. People with toxins in their body should eat beetroots as they will work as a detoxifiers. Fiber found is beets is excellent for the digestive tract. Buttermilk contains probiotics microbes which improve immunity and guts. So combining the two has a very cooling and soothing effect on body during summer.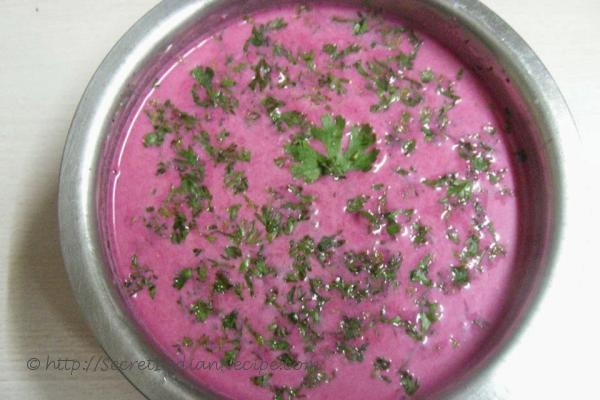 Ingredients:
1 Beetroot cooked
5-6 cloves Garlic
1-2 Green Chillies as per taste
Salt to taste
400 ml Buttermilk / as per required
Pinch of Black salt
1 tsp roasted jeera pd ( Cumin Powder)
1 tsp Sugar (optional)
Coriander for garnishing
Directions:
Grind cooked beetroot, garlic, chillies and salt into fine smooth paste.
Add this paste into buttermilk and mix well.
Sprinkle black salt and jeera powder.
Garnish it with finely chopped coriander.
Serve chilled.
Footnotes:
Optional Suggestion: You may add sugar if needed (optional).I have not added as I don't like it sweet, but if you like chaas a bit sweet you may add sugar.