Beetroot Moru Curry (beetroot Cooked In Buttermilk)
There are very few recipes that include beetroot in my kitchen. My hubby says the muddy flavor of beetroot turns him off. So the best way I incorporate this vegetable into our diet is by adding buttermilk. The pink appearance makes it look attractive and the addition of fenugreek and asafoetida neutralizes the muddy flavor.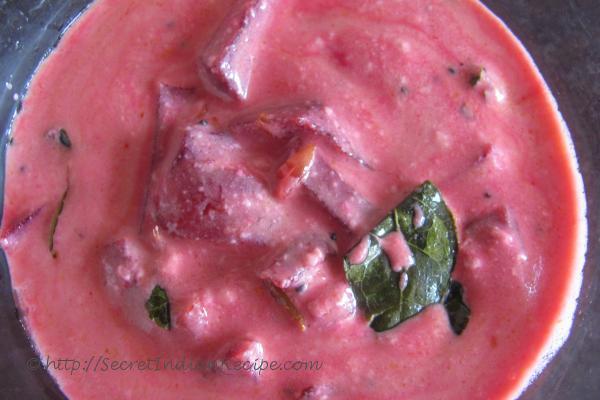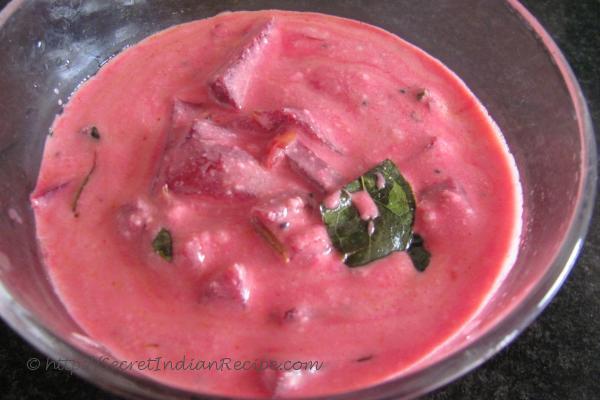 Ingredients:
Beetroot- 1
Onion- 1
Garlic- 5 pods
Ginger- 1/2 inch piece
Green Chilies - 2
Mustard seeds- 1/2 tsp
Fenugreek seeds- 1/4 tsp
Curry leaves- 1 sprig
Curd- 250 ml
Turmeric powder- 1/2 tsp
Chili powder- 1 tsp
Asafoetida- 1 tsp
Fenugreek powder- 1/4 tsp
Salt to taste
Water- 1 cup
Oil- 2 tbsp
Directions:
Peel the beetroot and chop it into small pieces.
In a bowl whisk the curd with salt and water and keep it aside.
Heat 2 tbsp of oil in a pan. Add mustard and fenugreek seeds along with curry leaves.
After the mustard splutters add the onion, garlic, finely chopped ginger, chilies and saute till these ingredients brown.
Now add the chili, turmeric, asafoetida and fenugreek powders and saute for a minute or two before adding the chopped beetroot.
Cover the pan with a lid and cook the beetroot with 1/4 cup water. Cook till the water evaporates and switch off the flame.
Once the beetroot cools down add the whisked buttermilk to the pan and light the stove again. Heat the buttermilk over very low flame and switch off after 2 minutes.
Serve with rice and any stir fry.
Footnotes:
Alternate form of cooking a moru curry is to avoid the addition of mustard, fenugreek, curry leaves and add it as a tempering in the end.
Some add cumin seeds as tempering.
Ground coconut paste is added to the beetroot by some but if you are not a fan of coconut like me stick to the recipe above.