Beetroot Ni Bhaji Nu Shaak (beetroot Greens Stir Fry)
We were in Ooty last week for a small vacation. And I was smitten by the freshness of the vegetables there. I could not resist grabbing few beets and carrots. I had heard my supervisor who is a Gujarati tell me that they cooked these leaves with great fondness. We don't get these leaves in Bangalore and so I bought the beetroot for the leaves rather the vegetable itself. This is a very simple stir fry and it tastes like red amaranthus partly and beetroot in some instances. I just loved the colour of these greens and they tasted very fresh.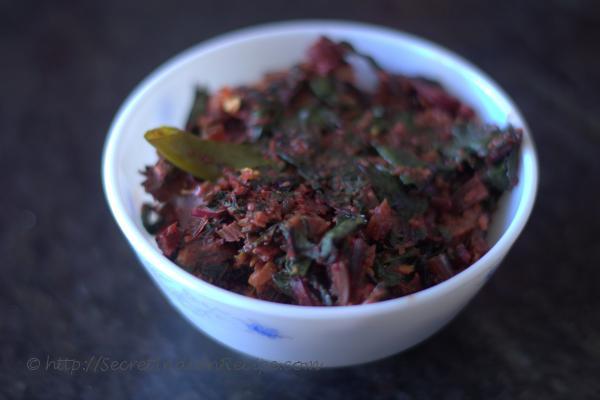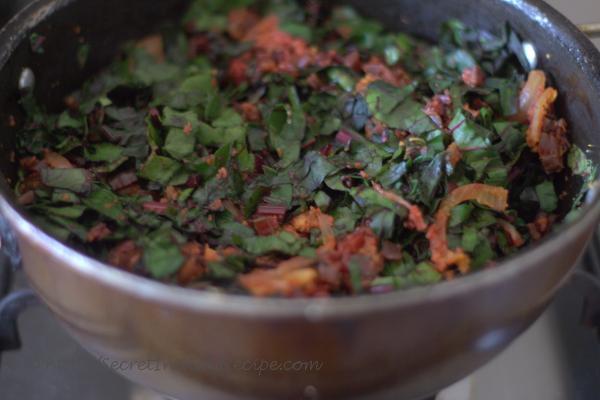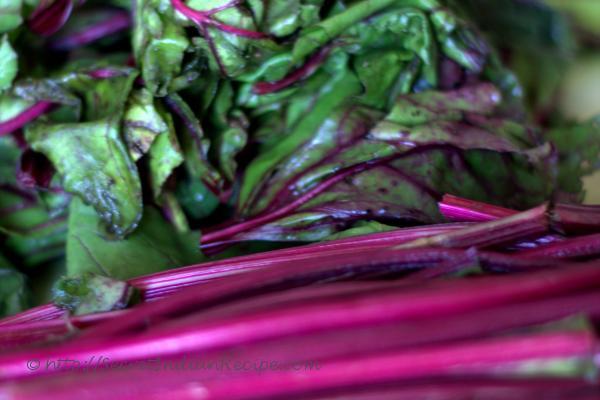 Ingredients:
Beetroot leaves- 5 bunches
Semolina- 2 tbsp
Onions- 2
Green Chilies- 4
Garlic- 5 cloves
Turmeric powder- 1/2 tsp
Asafoetida- 1/4 tsp
Cumin seeds- 1 tsp
Curry leaves- 5-6
Garam masala- a pinch optional
Salt- to taste
Oil- 3 tsp
Directions:
Wash the beetroot leaves and stalks. Separate the leaves and stalks and chop them up.
Heat oil in a pan and add the cumin seeds. When they splutter, throw in the curry leaves and chopped onions.
When the onions brown, add the garlic and sliced green chilies. After 2-3 minutes add the semolina and start cooking them over low flame.
Add 3 tbsp of water to facilitate the cooking of semolina. Add turmeric powder, asafoetida and garam masala after this.
After sauteing for 2-3 minutes, add the stalks of the beetroot leaf. Cook them covered for 3-5 minutes.
Check if the stalks are cooked. Now add the chopped leaves and cook them together for 5 minutes. The leaves and stalks would have released some water.
Increase the flame and let the water content evaporate. When you have a stir fry that is nearly dry, toss it around.
Take the stir fry off the flame after this point at serve with rice or rotis.