Begun Baahari (egg Plant Cooked In Mustard And Poppy Seed Gravy)
This is an awesome Bengali side dish recipe. Begun or Eggplant recipes are almost essential when you talk about Bengali Vegetarian recipes. Just Like the North Indian, Bengalis too observe certain periods or Days when they have vegetarian food. Begun Bhaja (Fried Brinjals) is the most common recipe. Brinjal is also used in cooking ' Bengali khichdi', which is usually the main course when they have pure Vegetarian meals. In one of such occasion, I had this Begun Baahari in one of my colleague's home. The usual practice in Bengal is to combine side dish with main course and serve the entire meal in four to five combinations….something, I was not aware. So when Aunty served Rice and begun Baahari and Aloo Bhaja (Fried Potato). I thought, it is all that they have for lunch and I ate till I was full. The gravy was a perfect mix of spices and addition of coconut milk and sugar added the required sweetness. When Aunty brought the second serving of Luchi (Puries) and Cholar dal ( Gramflour Dal) and Echorer tarkari (Jackfruit curry). I was awestruck. But I was full by then and told aunty that I don't regret, the Begun Baahari was just awesome and that I can come to her place again and again for having it. Later she gave me the recipe which I am sharing with you all. Try this or you will miss something!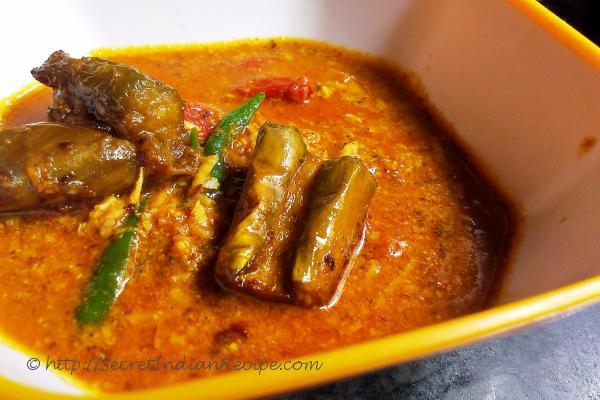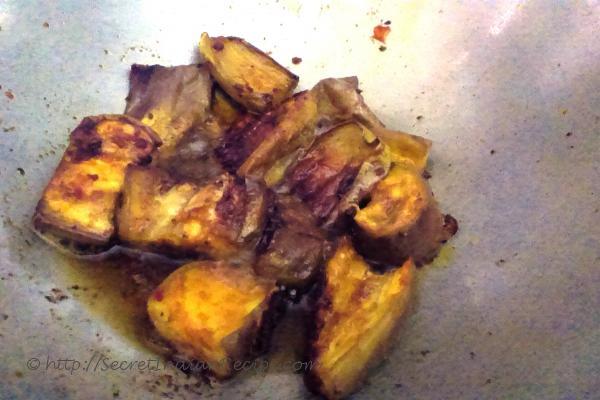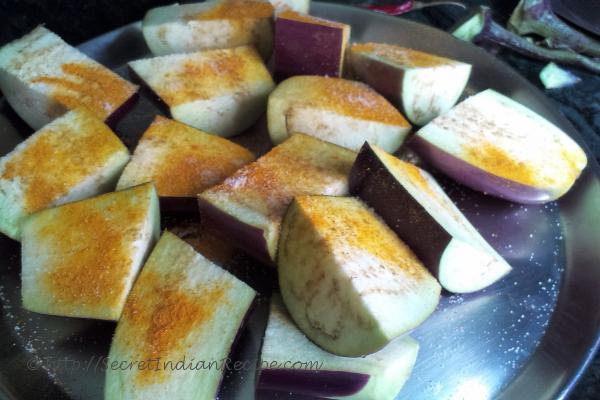 Ingredients:
Begun (Eggplant) – 250 grams
Poppy seeds – 1 tablespoon
Yellow Mustard seeds – ½ tablespoon
Garlic – 4-5 cloves
Tomato – ½ of a small sized Tomato
Green chilies – 2-3 sliced
Red chili powder – ½ tablespoon
Turmeric powder – ½ tablespoon
Mustard oil – 4 tablespoon
Salt to taste
Coconut milk – ¼ cup
Sugar to taste.
Directions:
Wash and chop Egg plant in 2 inch big pieces. Sprinkle Turmeric Powder and 1 tablespoon salt and marinate for 15 mintues.
In the meantime grind Poppy seeds, Garlic and Mustard seeds into paste.
Heat oil in a pan over medium flame. Drop the marinated Egg plants carefully in oil and shallow fry them on low flame till they are almost done. Take out on a plate and keep aside.
In the remaining oil, add the grounded Poppy and Mustard paste along with chopped tomato and red chili powder. Turn the flame low and sauté till it leaves oil from sides.
Add ¼ cup of water, salt and sugar to taste and coconut milk. Let the gravy come to a boil. Add the Eggplants and let it simmer for about 2 mintues.
Check the seasoning. Garnish with sliced green chilies and serve hot with steamed rice.