Begun Bhaja (fried Brinjals)
Begun bhaja is Bengali relish. It is part of daily menu in most of the Bengali household and it is usually served either with rice and dal or with Luchi.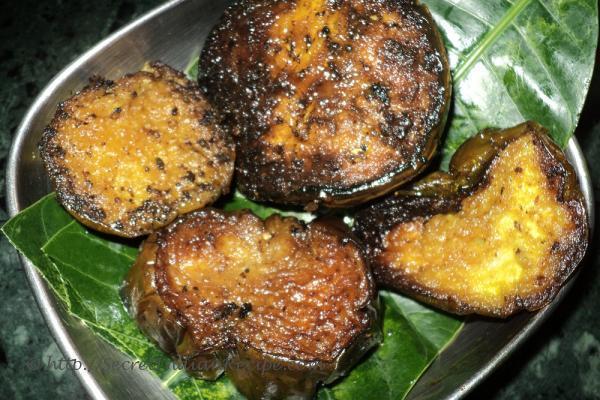 Ingredients:
Begun (brinjal ) 250 grams (9 ounce)
Garlic Paste 2 tablespoon
Red chili paste / powder 1 tablespoon
Turmeric Powder ½ tablespoon
Mustard oil 6 tablesoon
Salt 1/2 tablespoon
Khatai ½ tablespoon (optional)
Directions:
First slice the brinjal in 1 inch thick round shape. Dip them in salt water and leave for 5 mintues.
In a bowl mix garlic paste, red chilli paste, turmeric powder, salt and khatai with ½ tablespoon of mustard oil. Apply this masala paste on the both sides of the brinjals,
In a karahi heat rest of the oil and put the brinjals .Put the lid on and cook on low flame for 5-6 mintues. Check if the one side is done. Then turn the brinjals carefully and cook the other side. Once both the sides are done and the surface turns golden brown take it out and serve.
Footnotes:
Kathai is basically a mixture with is stuffed in ' Red Chilli Pickle'. It is mixture of coriander powder, Paanchporen , Cumin powder, Ajwain, Asafoetida and Black salt.