Begun Tangra (brinjal And Tangra Fish Curry)
It is a Bengali recipe. Tangra fish has lot of Iron and as it has only mid bone, it is very suitable for young toddlers.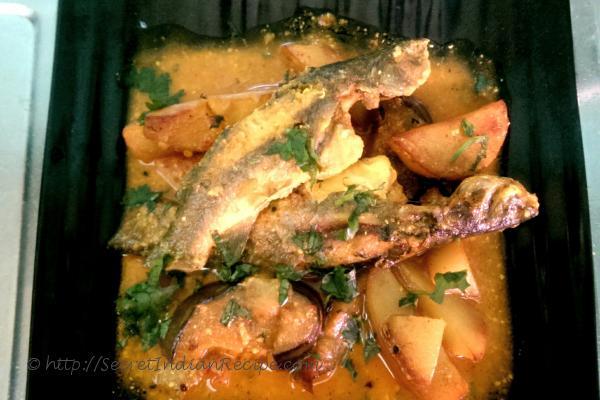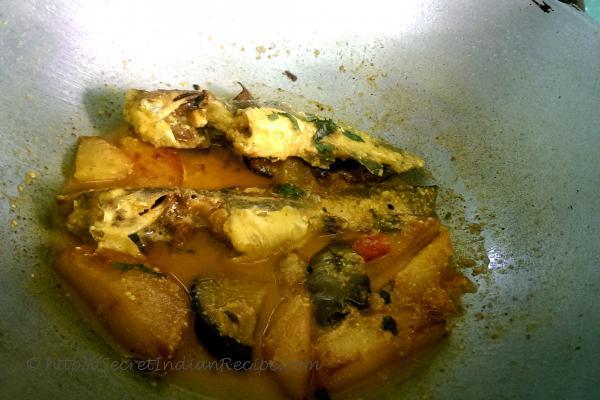 Ingredients:
Begun (brinjal) 200 grams (7 ounce , cut in 1 inch pieces)
Potato 150 grams (5.5 ounce, cut in pieces)
Tangra fish 250 grams (9 ounce)
Panch phoren 1 teaspoon
Turmeric powder 1 teaspoon
Red chilli powder 1 teaspoon
Salt 1/2 tablespoon or as per taste
Sugar to taste
Coriander leaves 2 tablespon (chopped)
Green chillies sliced
Mustard oil 5-6 tablespoon
Directions:
Clean the tangra fish thoroughly and apply ½ tablespoon of turmeric and salt.
In a karahi pour mustard oil and fry the tangra fish and keep it aside.
In the remaining oil in the karahi add paanch phoren followed by brinjal and potatoes. Shallow fry the vegetables.
and then add turmeric powder, red chilli powder, tomato puree and sauté for 2-3 mintues.
Add the tangra fish, salt, sugar and water. Mix well and cook on a low flame with the lid on for 10 mintues. Check if the potatoes and brinjal are done. Garnish with coriander leaves and chilles and serve with steamed rice.
Footnotes:
It is very important to clean the Tangra fish properly by rubbing it on a hard surface as it habitats in pond or muddy area.
Other Indian Recipes that you may Like !