Bejad Ki Roti (mixed Flour Roti)
In Rajasthan, people are very fond of incorporating varieties of rotis in their platter along with diverse vegetable preparation and daals. Bejad Ki Roti is made with a mix of Barley and Chick pea flour. Being highly nutritious and digestive, this rotis can be replaced with wheat rotis for people with gastric ailments. It is also low on carbohydrates, assisting in weight management and not to forget to mention, these rotis are extremely delicious.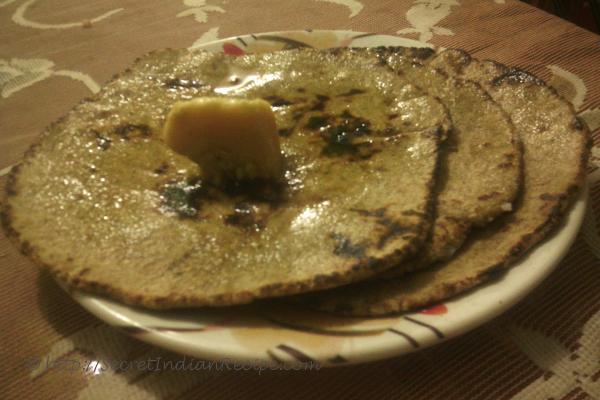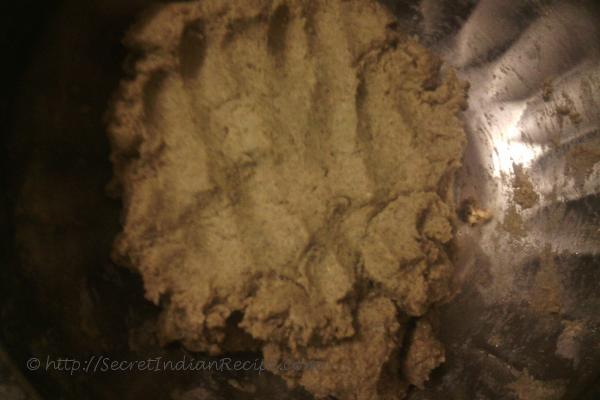 Ingredients:
Barley & Chick Pea Flour (Bejad Ka Atta) - 2 cups
Salt - 3/4 tsp
Oil - 2 tsp
Water - 1 cup
Clarified Butter for applying on rotis
Directions:
In a kneading bowl, take Bejad flour and add salt to it.
Slowly add water and mix well. Note that the dough should not be tight and dry.
Finally add 2 tsp oil and knead well. The dough should be very soft as shown in image.
Now take a medium sized pint of the dough and roll it over dry flour and shape it round using both hands.
Make sure that it does not crack. Now press it in the middle and try to enlarge it using the fingers.
Then swiftly roll it into a thick roti with a rolling pin (belan).
Heat the pan/ tava and put the roti in it and turn it to other side after 1 minute.
As both the sides gets slightly roasted, put it to direct flame and keep turning it till all the sides get equally brown like a wheat roti.
Similarly make all the rotis and apply ghee on one side and serve with daal and jaggery.
Footnotes:
The rotis should be expanded very delicately and the secret for perfect Bejad rotis lies in the dough. Softer the dough, better the quality of the rotis.