Benaras Ki Channa Dal (spiltted Bengal Gram With Spices)
Channa dal is a very common recipe in India but if you travel from north to south, you will find variation in the preparation. For example if you have channa dal in Bengal , you will find it a little sweet and less spicy, In Maharastra , you will find grated coconut, in Uttarpradesh, it is made with lot if spices and garam masala which you can enjoy with plain rice.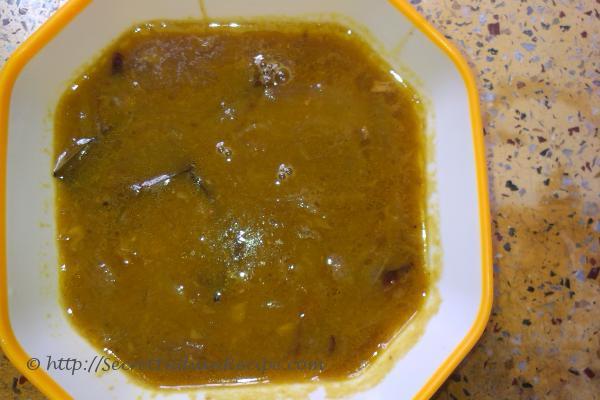 Ingredients:
Channa dal (splitted Bengal gram) – 1 cup
Onion -2 pieces ( sliced)
Bay leaves – 2 pieces
Ginger – ½ inch piece
Garlic – 6-7 cloves
Cumin seeds –1/2 tablespoon
Black pepper – 4-5 seeds
Garam Masala powder – ½ tablespoon
Turmeric powder – ½ tablespoon
Salt – 1 tablespoon
Mustard oil – 4 tablespoon
Ghee – 1 tablespoon
Directions:
Boil the channa dal with turmeric powder, salt and ½ tablespoon of mustard oil.
Put ginger, garlic, cumin seeds, black pepper powder in grinder and grind into a smooth masala paste.
Heat oil is a karahi and put bay leaves. Once the aroma starts coming out, add the sliced onions. Fry the onions till they turn golden brown. Now add the masala paste and fry till the masala leaves the oil.
Pour this masala in the boiled channa dal. Switch on the gas and let it simmer for 2 mintues.
Tamper the dal with ghee and serve with plain rice.
Footnotes:
Do not overcook the dal. The dal should be soft but not overcooked, taht it gets mixed with dal water.