Bendekayi Gojju (lady's Finger Curry)
Bendekayi gojju is a Karnataka speciality.Each & every member of my family prepare this gojju & I haven't heard from any of them not liking it.Some love to eat them with akki rotti,some with chapati & some with white rice.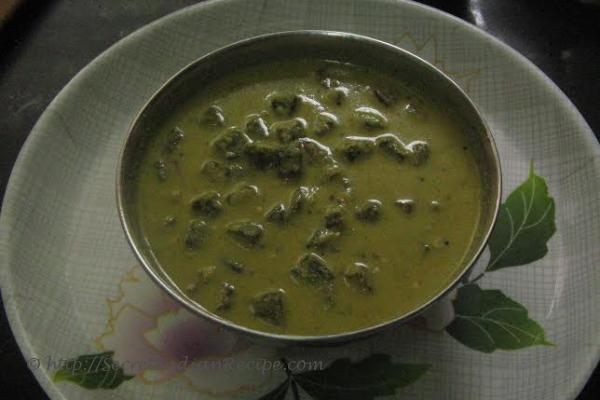 Ingredients:
Lady's Finger - 250 gms.
Fresh grated cocnut - ½ cup.
Coriander leaves – 4 to 5 tablespoons.
Green Chillies – 4 to 5.
Red chillies -1 no.
Curry Leaves – 2 sprigs.
Tamarind – 1 small ball.
Jaggery – 1 small piece.
Turmeric Powder – 1/4 tablespoon
Refined Oil – 5 tablespoon.
Asafoetida(hing) ¼ tablespoon
Sesame Seeds – 2 tablespoon
Cumin Seeds – 1/2 tablespoon
Mustard Seeds – 1/2 tablespoon
Salt to taste.
Directions:
Wash and cut lady's finger into small pieces.
Heat oil in a large kadhai and add mustard seeds.when they begin to splutter put small pieces of red chillies.
Add the lady's finger and fry them till they does not stick to each other anymore.
Allow to cook lady's finger. It takes 5-8mins for the vegetable to soften.
Boil tamarind in water,take out extract and set aside.
Add tamarind extract, jaggery,curry leaves and salt to the cooked lady's finger.allow to simmer for a while.
Place a small wok and dry roast the sesame seeds till they splutter.
Then combine grated coconut,Coriander leaves,Green Chillies,Turmeric Powder,Asafoetida(hing)Sesame Seeds and Cumin Seeds in a mixie and grind it into a smooth paste.
Then add the paste to the vegetable and add 1 cup water mix thoroughly. cook in medium flame for 5 to 6 mins and remove from fire.
Serve with dosa,chapatti or rice.
Footnotes:
Never cut a wet lady's finger.Keep the chopping board,knife & the lady's finger completely dry.
After washing the lady's finger,dry them on a kitchen towel & wipe them all dry again before using.
Use a broad pan to saute the lady's finger. Add more oil & fry it on a high heat to remove the slime & keep the lady's finger crisp.