Bengal Gram Flour Dosai(kara Dosai)
#PowerBreakfast
This is my family's traditional heirloom recipe .This dosai is an alternative for our regular dosai, it can be made instantaneously . More over its protein rich , really very tasty and easy to make in the morning. Just one or two dosai 's will keep you satiated for hours.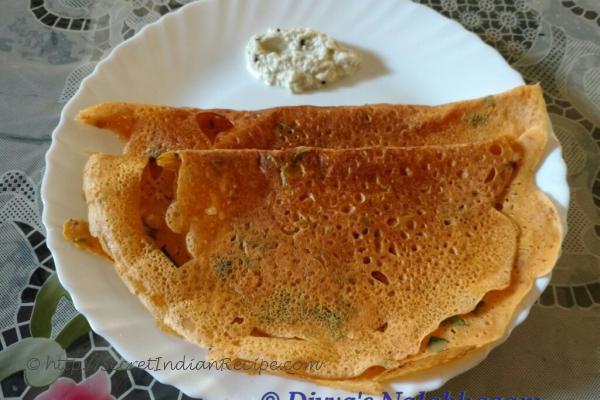 Ingredients:
Bengal gram flour-1 cup
Rice flour -1/2 cup
Red chilly powder -1 tsp
Cumin seeds -1 tsp
Salt to taste
Curry leaves a few
Coriander leaves a few
Oil
Asafetida a pinch
Directions:
Mix all the ingredients together with water to a slightly thin dosai batter.
Heat tawa pour the batter in a random fashion instead of going in circles. add oil.
Cook till the dosai is crispy on both sides.
Serve hot with coconut chutney.
Footnotes:
Make the batter thinner than your regular dosai batter.
Always mix the batter every time you use it since it tends to settle down.