Bengali Channa Dal Egg Curry Recipe ( Split Bengal Gram And Egg Curry)
This is a popular Bengali recipe that is cooked with chana dal paste and boiled eggs. It is superb in taste and easy to make.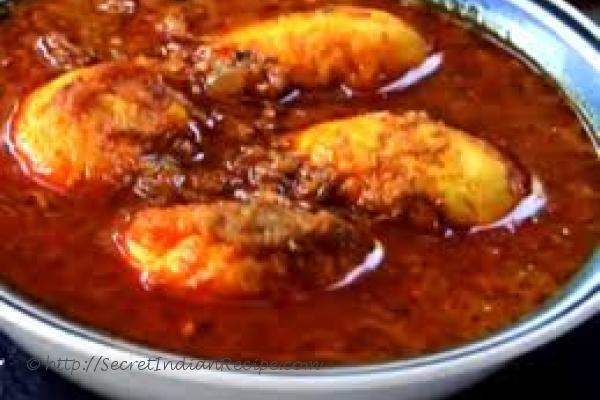 Ingredients:
Duck egg boiled - 6
Boiled bengal gram or chana dal - ½ cup
Onion paste - 2 tbsp
Ginger paste - 1 tbsp
Red chili powder - 1 tbsp
Turmeric powder - ½ tsp
Garam masala powder - 1 tsp
Ghee - 2 tsp
Salt to taste
Mustard oil – 3 tbsp
INGREDIENT FOR TEMPERING
Bay leaf – 2
Whole red chili – 2
Directions:
Make a fine paste of chana dal.
Heat oil, rub salt and turmeric powder on eggs and fry in oil, keep aside.
Temper bay leaves and chili in the remaining oil. Add onion and ginger paste, chili and turmeric powder. Cook for few minutes until the spices cook properly.
Add chana dal paste, turn the flame high and fry the dal till the raw smell goes.
Add 1 cup water and bring to boil.
Add eggs, garam masala powde and cook. Pour ghee on top and serve with steamed rice or roti
Footnotes:
Posted by Tapashi Dey Food Writer & Blogger Visit my facebook page https://www.facebook.com/groups/1476298562630295/
Other Indian Recipes that you may Like !