Bengali Illish ( Hilsa Fish Cooked In Bengali Style)
It is a hot and spicy Hilsa preparation of Barisal, a district of Bangladesh.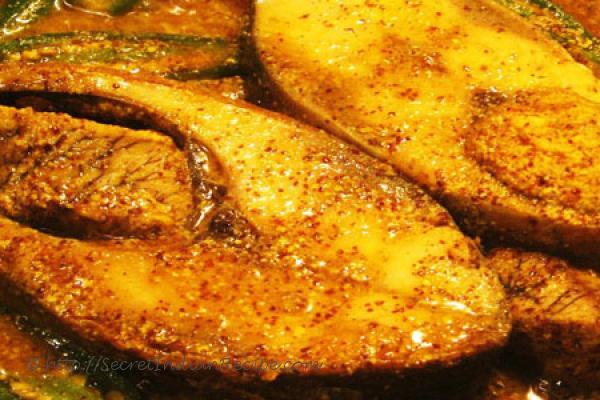 Ingredients:
Hilsa fish pieces 6
Black mustard 2 tbsp
Grated coconut ½ cup
Dry red chilli 4( paste)
Sour curd 3 tbsp
Pumpkin pieces 6
Brinjal pieces 6
Sponge gourd 8 pieces (remove the peel)
Mustard oil ½ cup
Turmeric powder ½ tbsp
Salt to taste
Onion seeds ½ tsp (kalo jeera)
Green chilli 5
Directions:
Grind coconut and mustard separately with little water and keep aside.
Beat the curd with ½ cup of water and keep aside.
Heat oil in a pan and add the ingredients of tempering , Kalo jeere and green chilli. Once it starts popping, add red chilli paste and cook for 2 minutes.
Then add all vegetables along with salt and turmeric powder. Cover the pan and cook for 5 minutes.
Add mustard and coconut paste, Mix and again cover and cook for 5 minutes.
Add 1 cup water and beaten curd and mix well.
Finally add fish and cook until the vegetables become tender. It will take 15-20 mintues. Serve with hot plain rice
Footnotes:
Do not stir the curry after adding fish. It may break them.
Other Indian Recipes that you may Like !