Bengali Lau Bori Torkori(bottlegourd Curry)
In bengali, lau means bottlegourd, bori means lentil dumplings and torkori means a dry curry. Bengalis are known for their non- veg delicacies and sweet preparations. It would be surprising to know that even bengali vegetarian dishes are highly popular like "lau bori torkori". The dry curry is tempered in whole spices like bay leaf, cinnamon and cumin seeds and flavored by ginger, cumin powder and red chilli powder. The boris or lentil dumplings are fried and crushed and then added to the curry which gives crunchiness to the dish. It is a pure satvik dish with no onions or garlic. This is an heirloom recipe of lau torkori coming from my mom and grandma.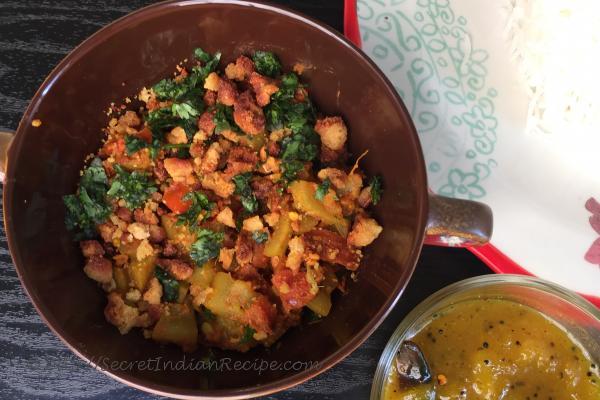 Ingredients:
1 cup thinly sliced and chopped Bottle gourd
2 tbsp bori or vadi or lentil dumplings
1 small Tomatoes roughly chopped
1/2 tsp finely grated Ginger
1 Green chillies finely chopped
1.5 tbsp Mustard oil or any cooking oil
1 Bay leaf
1 inch Cinnamon stick
1/2 tsp Cumin seeds
1/4 tsp Turmeric powder
1/2 tsp roasted ground Cumin powder
1/4 tsp Red chilli powder(adjust as per your taste)
1 tbsp chopped Coriander leaves
Directions:
Heat oil in a pan. When the oil is heated, fry the boris on low medium till it turns light golden. Take it out on a plate and keep it aside.
In the same pan, add the bay leaf, the cinnamon stick and the cumin seeds. Saute on low heat.
When the cumin seeds stop to crackle, add the chopped tomatoes, grated ginger and the chopped green chillies. Add the turmeric powder, red chilli powder, cumin powder and salt as per taste. Add the chopped bottlegourd. Stir and mix. Cover and cook for 15-20 minutes until the tomatoes become soft and mushy and the bottlegourd is cooked. Turn off the heat.
Crush the fried boris and sprinkle on the bottlegourd curry. Garnish the bottlegourd curry with chopped coriander. Serve it hot as a side dish with rice or any flat bread.