Besan And Coconut Barfi (gram Flour And Coconut Fudge)
This was the first sweet made by me after my marriage. In North India, when the bride comes to her in laws place, there is a ritual of cooking something sweet. The most common is to cook ' Kheer' or rice pudding. In my case, my Mother in law asked me to cook something different as she wanted to impress the relatives who had come to attend our marriage. I had been helping my mother cooking this Besan Coconut barfi since I was in school so this was the most unknown and comfortable recipe for me. #RegionalUnknownRecipe Contest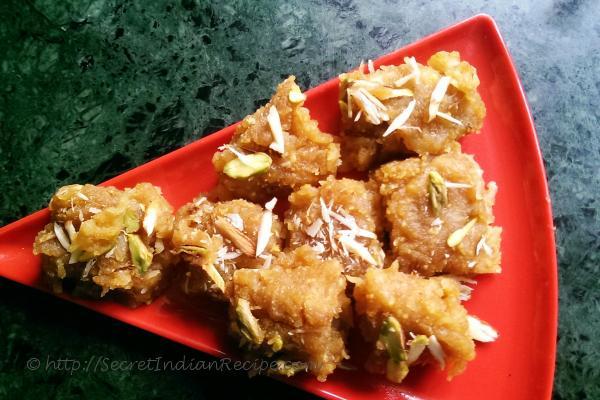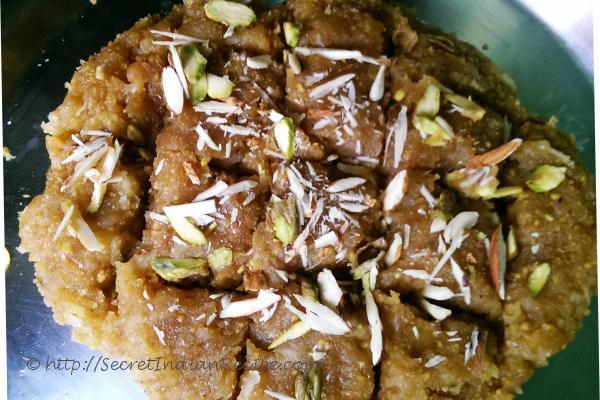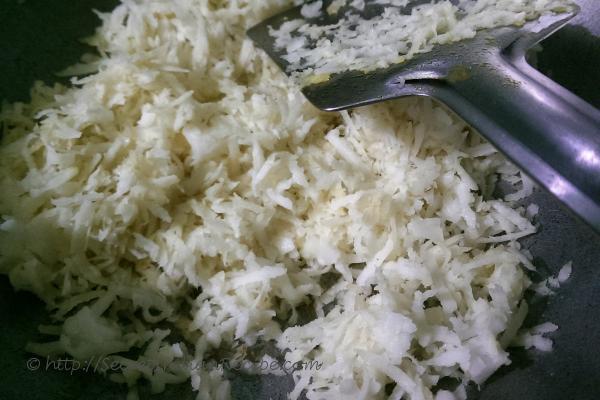 Ingredients:
Besan (Gram Flour) – 1 Cup
Raw Coconut – 1 cup grated
Cow Ghee – ½ cup tablespoons
Sugar – 1 cup
Chopped Dry fruits – 4-5 tablespoons
Cardamom - Pods of two cardamom crushed.
Milk – 1 cup
Directions:
Heat a tablespoon of ghee in a pan and slightly roast the coconut. This will take 2-3 mintues. As soon as you start getting the nice aroma of roasted coconut, take out on a plate and keep aside.
Add remaining ghee (Keep aside only 1 tablespoon for later use).
Add the besan and cardamom and roast on low flame till it turns light brown. This will take 5-6 mintues. Take it out on a plate and let it cool.
In the same pan boil milk. Add sugar and let it dissolve. Then add roasted besan, coconut and half of dry fruits. Mix and increase the flame. Fold everything well and cook till the moisture evaporates.
Finally add the last spoon of ghee. You will find the mixture leaving sides of the pan.
Take out the mixture on a greased plate. Garnish with the remaining dry fruits. Let it cool in refrigerator for 15 mintues.
Cut the barfi and keep it in airtight boxes. I recommend to warm it slightly before serving it to guests.