Besan Moonghfali Pak (besan With Peanut Butter)
This is my Moms recipe,She cooks it the best way.An interesting sweet dish made out of Besan(Chickpea Gramflour along with yummy Peanut Butter and chocolate)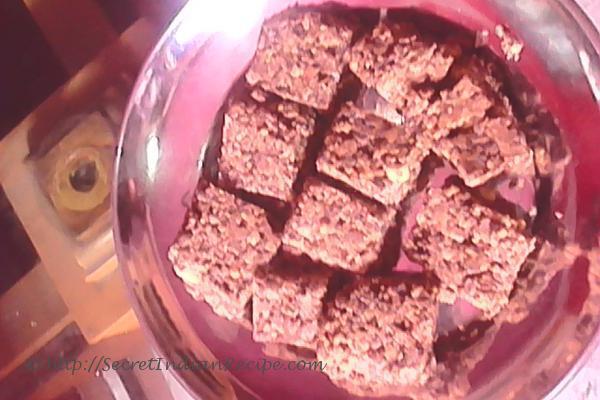 Ingredients:
2 cups of Besan(Chickpea Gramflour)
2 cups of Peanut Butter
1 cup of Desi Ghee
1/2 cup chopped peanuts
1/4 cup chopped dark chocolate
1 cup of Sugar
2 cups of Water
Directions:
Heat a Pan.Add in some Ghee.Add Besan to it.
Cook it on low flame for 10 mins. Keep steering continuously so that it does not burn.
When the Besan turns light brown in colour,add sugar and mix well
Add 2 cups of Peanut Butter to the Besan mixture.Continuously mix it fast as it will become little sticky but nothing to worry.
Add the chopped peanuts and chocolates.
Check the consistency,if its too sticky add in some water.mix well till the mixture leaves the sides of the pan.
Grease a Plate with little Ghee.Pour the mixture on it.and with the help of a spatulla flatten it.
Let it cool down for 1 hour.After that cut pieces out of it and serve.