Bhalle
A very simple recipe with a rustic taste of Himanchal Pradesh.........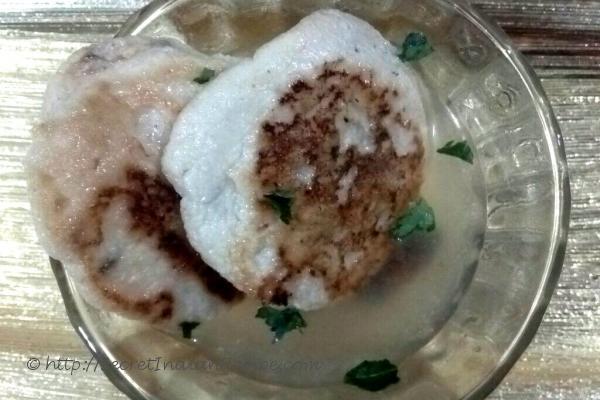 Ingredients:
1 cup Dhuli Urad dal ( peeled black lentil)
1 Green Chilli
2 Whole Red chilies dry
2 Pinch of Hing ( Asafoetida)
Salt to taste
1 tsp Coriander seeds
2 tbsp Mustard oil
1/2 litrewater
Directions:
Soak dal for 6-8 hours. Drain and grind to a smooth paste along with green chilli and hing with a little water.
2. Add salt to the paste and whisk it till it becomes light and fluffy.
3. Heat non stick tava and smear it with little mustard oil . Make round and flat bhallas ( Tikkis) place them on the tava and cook them on both the sides till they are completely cooked. Adding a little oil as and when required. Do not over cook.
4. In a kadahi heat 1 tsp mustard oil to the smoking point, then add coriander seeds whole red chillies and heeng, Immediately pour water in it. Add some salt and just heat for 30 seconds. Place the bhallas in this tempered water and cover with lid. Let it stand for 1/2 an hour before serving.
5 .Traditionally these bhallas are eaten with the tempered water only. But if want you can serve with curd and sweet and saur chatni.
Footnotes:
If you are not comfortable with mustard oil you can use any other oil . but there will be slight change in the taste.