Bhapa Sandesh( Steamed Cottage Cheese Fudge)
Bhapa means steamed and sandesh is a Bengali sweet made from milk and sugar. Some recipes of Sandesh like this call for use of chenna or paneer. This dish is inspired from Rumela Roy on her blog , " Mix and Stir". This dish is made from homemade paneer, mixed with powdered sugar and dry fruits, steamed, cooled and then cut into squares or diamonds to serve. It's a very simple and easy recipe.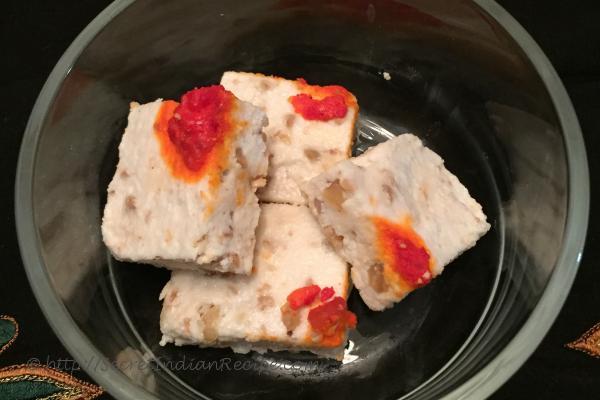 Ingredients:
2 litres full fat milk
6-7 tbsp powdered sugar ( adjust as per taste)
3 tbsp lemon juice mixed in 2 tsp of water
1/2 tsp cardamon powder
2-3 tbsp chopped walnuts
few strands of saffron or edible red food color ( optional )
Directions:
Bring milk to a boil in a container at medium high heat. This will take 7-8 minutes. Lower the flame and add lemon juice. Stir the milk. Wait for 2-3 minutes. Once the milk starts curdling, remove the container from the heat and let it stand for 5-7 minutes.
Drain all the water using a soft muslin cloth or cheese cloth. Only chunks of cottage cheese will be left behind in the cloth.Wash the paneer(cottage cheese) in cold water for 2-3 minutes so as to remove the smell of lemon juice.Tie the cloth containing the paneer securely and hang it on the kitchen tap for 30 minutes. It's very important that the paneer should not be too dry else the paneer dough won't be soft.
After 30 minutes, take out the crumbled paneer into a mixing bowl. Add powdered sugar and mix using your fingers. Once the mixture is soft and smooth, add cardamon powder and chopped walnuts(optional). Knead it into a soft and smooth dough ; you will see oil on your palms.
Take a steel container and grease it. Add the cheese mixture into the container. Sprinkle some saffron threads or mix a little paneer with food edible color in a separate bowl and put it on top of cheese mixture.Cover the steel container tightly with a lid. You can also cover it tightly with an aluminum foil
Take a pressure cooker and add enough water such that the level of water should be 1 inch below the top rim of the steel container. Place the steel container carefully inside.Cover the cooker with a lid. The lid should have rubber gasket but the whistle should be removed. Cook on low medium heat for 15-20 minutes
Once the cheese mixture is steamed, cool it completely at room temperature and then refrigerate it for atleast 40-45 minutes. Take out the cheese mixture from the refrigerator and cut it into squares or diamonds pieces.
Cool, sprinkle some pistachios or walnuts and serve.
Footnotes:
For Bengali sweets like rosugulla, chum chum , rajbhog, sandesh , full fat milk is a must. Do not use 2% or skim milk as you would get a hard rubbery chewy sandesh.