Bhari Hui Simla Mirch (grilled Stuffed Simla Mirch)
An easy to make recipe when you are hosting a last minute party! Quick and tasty.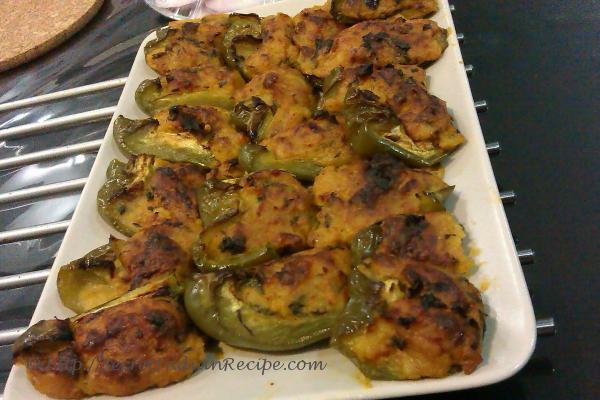 Ingredients:
3 Medium Sized Simla Mirch (Capsicums/ bell peppers)
4 Potatoes boiled and grated (for mashed well)
1 Tsp Jeera (Cumin Seeds)
1 Tsp Haldi (Turmeric)
3 Green chillies finely chopped
1 inch ginger peeled and grated
1 bunch coriander ( about 5 tbsp) finely chopped
1 Tsp Coriander powder
1/2 Tbsp chaat masala
1 Tsp Garam masala
1 Tbsp Salt ( or as per your seasoning)
Oil for coating and cooking
Directions:
Pre heat the oven at 225 degrees for about 10 mins
In a pan take a little oil about 2 tbsp, once hot add the jeera, ginger, chilies and give it a quick stir.
Add the mashed/grated boiled potatoes to this followed by all the dry Masalas ( Haldi, Coriander powder, Chaat Masala, Garam Masala) fresh Corianer leaves and salt
Keep mixing till the mixture turns golden brown. It should not take more than 4-5 minutes
Cut the Simla Mirch in centre vertically, remove the seeds and clean well. Brush oil on the Simla Mirch from outside and inside.
Stuff the potato mix in the Simla mirch. Grill in the preheated oven at the same temperature for 15 minutes.
Serve as a side dish with Dal and rice.
Footnotes:
You can have your own variations of this dish, like adding ginger garlic instead of just ginger, or stuffing it with potatoes and steamed rice makes it a whole meal in itself.