Bharlele Wangi ( Stuffed Spicy Eggplants)
a well known stuffed Brinjals in Maharashtrian Style.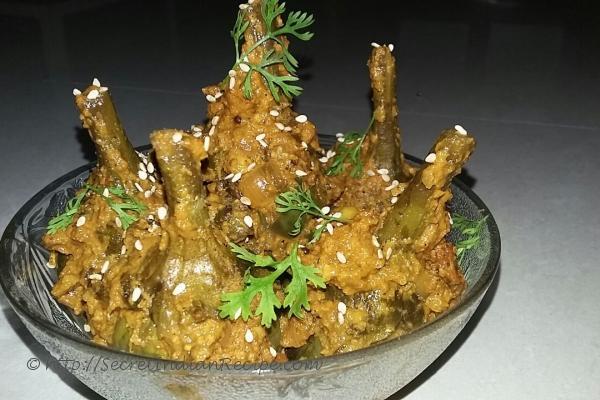 Ingredients:
Brinjal (Eggplants) 250 gm
Onions 100 gm
Dry Coconut 100 gm
Garlic 50 gm
Peanut 100 gm
Turmeric 1 tsp
Hing 1 tsp
Cumin 1 tbsp
Red chili powder 1 tbsp
Mustard 1 tbsp
Curry leaves 20 gm
Garam masala 2 tbsp
Tamarind 30 gm
Jaggery 30 gm
Coriander 50 gm
Oil 50 ml
Salt to taste
Directions:
Split Brinjal into 4 without separating it out.
Dry roast onion, coconut, garlic, peanut and blend it into paste.
Add chili powder, hing, garam masala, turmeric and salt into blended mixture.
Fine chop the onion and add salt in it.
Squeeze the excess water from the onion and mix it into the blended mixture.
Now stuff the mixture into the brinjals properly.
In a pan add oil, temper some cumin, mustard, curry leaves.
Now add the remaining blended mixture and sauté.
Add the brinjal to the pan and sauté.
Now add some Jaggery and tamarind paste. Add some water to the pan and let it get cooked till tender.
Now add coriander for garnish and serve it hot.