Bharli Vangi (spicy Stuffed Aubergines /eggplant Curry)
Stuffed eggplant curry is a spicy vegetarian recipe from Maharashtra. The recipe uses the small purple variety of eggplant and is a flavourful combination of nuts and spices. A popular main dish served at weddings and traditional luncheons, this delicacy combines flavours from groundnut, coconut and sesame with onion, garlic and ginger. The addition of goda masala (check out the stir fried cluster beans recipe for details on this spice mix) is peculiar to recipes from the state of Maharashtra.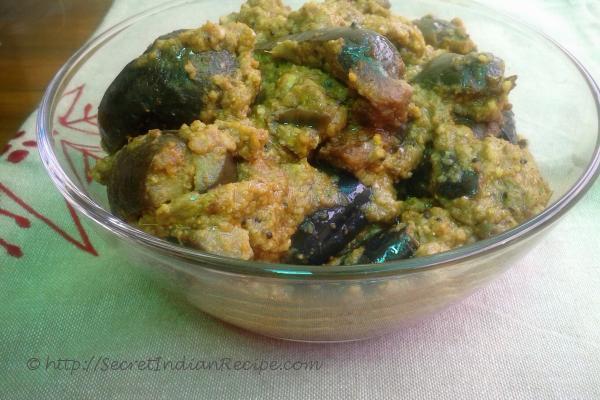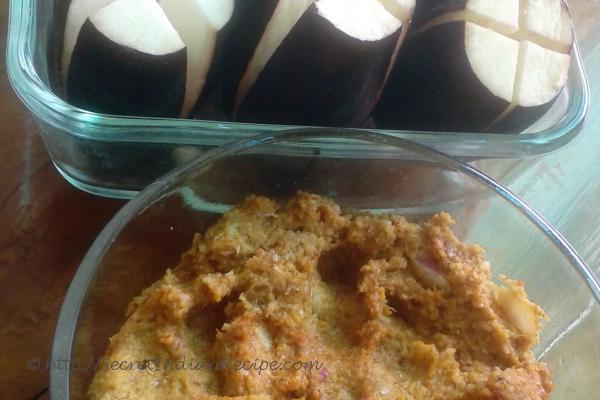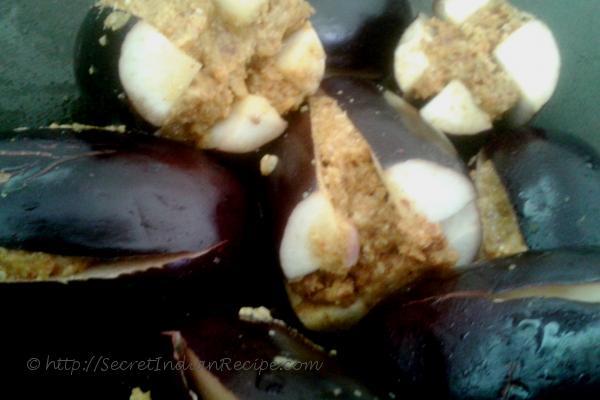 Ingredients:
250 gm of eggplant (about 8-10) , washed and topped and slit at right angles.
4 cloves of garlic
2 chopped onions
2 inch piece of ginger
4 sprigs of coriander
4 tbsp of roasted peanuts
2 tbsp of roasted sesame seeds
1 tbsp shredded coconut
1 tsp of mustard seeds
1 tsp turmeric
1 tsp red chilli powder
Salt to taste
1 tsp goda masala
2 tsp coriander powder
2 tsp tamarind paste
2 tsp jaggery
5 tbsp oil
1 cup water
Directions:
Mix the roasted groundnuts, roasted sesame and desiccated/ shredded coconut and grind to a powder in a mixer.
Also grind the onions, garlic, and ginger to a paste.
Transfer the powder and paste to a bowl and add turmeric, red chilli, salt and goda masala.
Mix well.
Stuff the eggplants with the mixture.
Heat the oil in a pan and add the mustard seeds.
Once the seeds begin to crackle add the stuffed eggplants one by one in a single layer.
Transfer the remaining stuffing mixture to the pan.
Add water and cook for 7-8 minutes.
Check the eggplants for doneness and stir.
Add the tamarind paste and jaggery and mix well.
Simmer for 5 minutes and stir.
Serve hot garnished with coriander with bhakri (sorghum/ragi bread) or chapati or steamed rice.
Footnotes:
While amchur (raw mango powder) can be used to substitute tamarind paste, sugar may be used in place of jaggery.