Bharvan Bhindi ( Stuffed Ladys Finger)
When I spotted these tender bhindis at the farmers market, I couldn't think of anything other than 'bharvan bhindi'. Usually besan is used in the stuffing but I had run out of besan that day. Searching through my pantry I found long sev and an idea sparked. If you use besan, it needs to be roasted and rest of the process is same. Ensuring that the bhindis are absolutely dry after the wash is important to avoid stickiness. While frying make sure to keep the bhindis side by side as shown in the picture. Check to avoid stacking. No need to keep turning the bhindis frequently. Notice the bhindi heads are chistled like a pencil head this keeps the head intact enough to hold the stuffing in place. I learnt the chistling by watching some videos on youtube. Small and tender bhindis make this curry all the more yummy.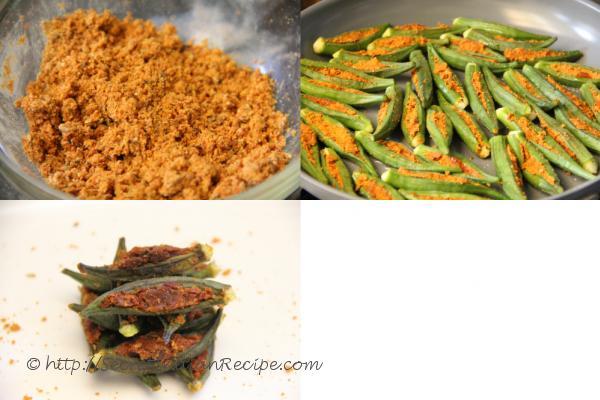 Ingredients:
Jeera / cumin – one tbsp
Coriander / daniyalu – one and half tbsp
Red chilli powder – to taste
Salt – to taste
Dry desiccated coconut – two tbsp
Fennel seeds / sonf – half tsp
Sesame seeds – two tbsp
Long sev / gathiya – half cup (non spicy sev)
Tamarind paste – one to two tbsp
Bhindi / ladyfinger/ okra – 250 gms
Oil – two tbsp
Directions:
Clean, wash and wipe bhindi to make completely dry. Cut the bhindi head like a pencil and make slits. Keep aside .
To make stuffing in a pan, add a few drops of oil, jeera, cumin, fennel seeds, sesame seeds, desiccated coconut. On low flame, roast them until it starts changing color. Turn off flame add red chilli powder, salt and long sev, mix well. After few seconds remove from the pan and cool it. Grind to a powder.
Transfer to a bowl, to this add tamarind paste and mix. It helps to bind and hold the stuffing in place when frying.
Stuff the bhindi with masala.
Heat the oil in a wide shallow pan, add stuffed bhindi and cook on low flame. Turn bhindi once you see it turning golden brown. Cook on other side also until tender.
Enjoy with paratha or rice or simply as a snack.