Bharwa Bhindi (stuffed Okra Or Ladies Finger)
This recipe is well known in the North part of India. and taste really nice.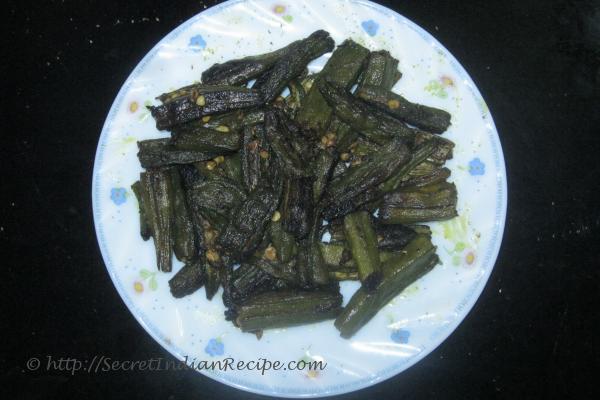 Ingredients:
Okra/ladies finger - 500g
Salt - to taste
Mango powder - 2 table spoon
Turmeric powder - 1 tablespoon
Red chili powder - 1 1/2 table spoon
Cumin powder - 2 table spoon
Coriander - 2 table spoon
Oil - 2 table spoon
Directions:
wash okra/ladies finger nicely , cut both the ends of the okra about 1/2 a centimeter , make a slit in the okra for stuffing. after this is done, keep it aside.
Now take a medium size dish/plate/bowl, put all the spices in it as per measurement and mix it nicely.
Take the okras and sprinkled the mixed spices into the split part, after doing this if the mixture of spices is still left keep it aside.
Take the frying pan and heat the oil. as the oil heats up ,pour the stuffed okra in it . wait till it starts getting brown, flip it carefully and cook till it is done.
Serve it with rice and dal
Footnotes:
wash your hand nicely after stuffing other wise the spice may go into your eyes.