Bharwa Parval ( Stuffed Pointed Gourd)
Parval or Potol is one of the most versatile vegetables I have come across. It has a very subtle taste which makes it easy to cook in any style. You can cook it with ginger and garlic based masala, or with cashew or simply fry it with salt and pepper. It tastes good in every way prepared. Here is my recipe where I have used besan or chickpea flour as a stuffing.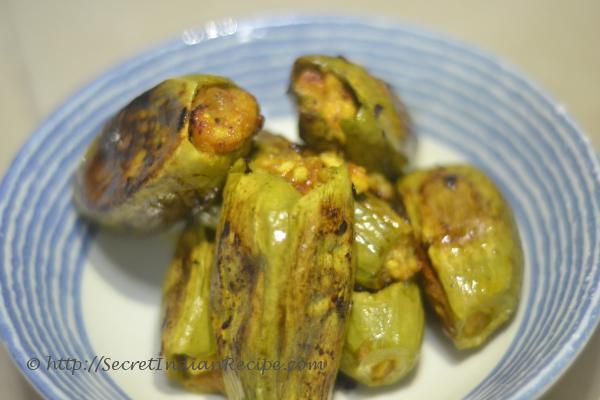 Ingredients:
Parval ( pointed gourd) - 250 grams
Besan ( gramflour) - 100 gram
Turmeric powder - 1/4 tablespoon
Red chilli powder - 1 tablespoon
Coriander powder - 1/2 tablespoon
Salt - 1/2 tablespoon
Oil - 100 ml
Directions:
Wash the pointed gourd, make a cut from one side and scoop out the pulp from inside.
Heat two tablespoon of oil in a kadhai and add besan. Saute on low heat. Roast till the besan starts leaving strong aroma. The key here is to get rid of the raw besan smell.
Remove besan from heat and add salt, red chili powder, turmeric powder and coriander powder and mix well. Add few drops of water so as to hold it all together, should be crumbly
Fill the parval with this stuffing. If its difficult to stuff, adjust the water quantity in the stuffing.
Heat remaining oil in a kadhai and put these stuffed parvels in it. Fry on medium heat till the vegetable is well done.
Serve hot as a side dish with dal chawal or paratha
Footnotes:
Add little amchur powder to enhance the taste