Bharwa Tinde ( Stuffed Indian Round Gourd)
This is a very healthy recipe of Stuffed Tinde recipe by my mother.
Love this recipe.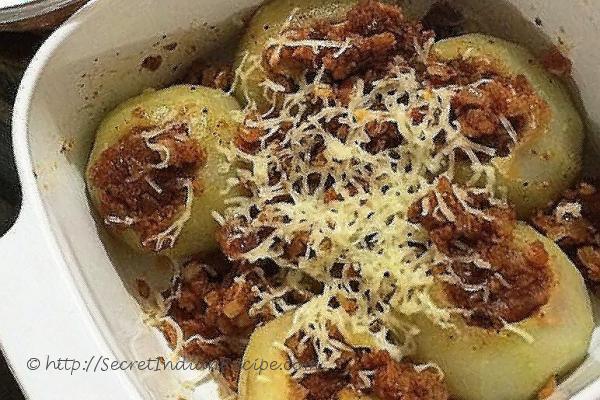 Ingredients:
Medium Size Tinday (Indian Round Gourd) 250 gms
Small Onion two-Chop Finely
Oil
Turmeric Powder-1/2 Tea Spoon
Red Chilli powder-1/2 Tea spoon
Mango Powder-1/2 Tea spoon
Garam Masala-1/2 Tea Spoon
Hing-Tinch
Ginger & Green chilli paste-2 chilli & small pc of ginger
Cumin Seeds 1/2 tea spoon
Cheese 3 Cubes-Grated
Green coriander leaves – 2-4 tablespoon (Chopped)
Directions:
Take tinde, scoop out the inner portion of Tinde
While scooping use peeler in circular direction and be careful to not make hole in base.
Put the Tinde in 1/2 glass of water and steam for 20 minutes.
Heat Oil and add hing & Jeera. Add Onions and saute once golden add scooped portion of Tinde,red chilli, Garam Masala,Ginger paste with green chilli paste, salt and mango Powder.
Let the masala cool. Then Fill the masala in Scooped Tinde.
Heat oil and place the filled Tinde on pan. Sprinkle cheese & green coriander on the tinde. Recipe Ready to Chill ):
Footnotes:
Scoop Tinde slowly with a peeler do not make hole in base. Boil only for 15-20 minutes or give steam if over cooked it will break.