Bharwan Karele (stuffed Bittergourd)
This recipe of bharwan karele is specially meant for diabetic people. Karela (bittergourd) is excellent to control the blood sugar level but due to its bitterness many diabetic people find it difficult to have it daily. Here is a recipe that is simple, innovative and less bitter.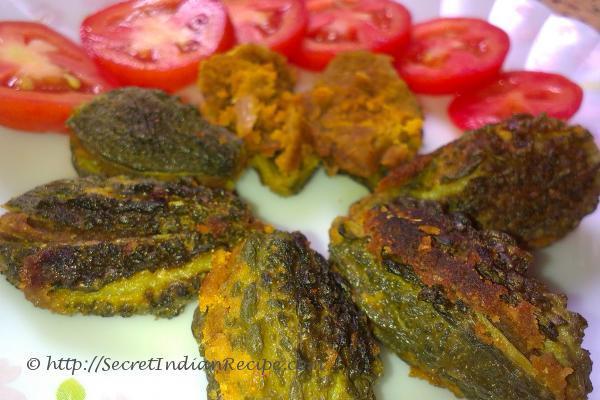 Ingredients:
Karele (bittergourd) – 200 grams
Besan (gramflour) -6 tablespoon
Coriander powder – 1 tablespoon
Turmeric powder – ½ tablespoon
Lemon juice – 1 lemon
Salt – 1/2 tablespoon
Chaat masala -1/4 tablespoon
Mustard oil - 4 tablespoon
Directions:
Wash the bittergourd and cut into half. Take out the seeds and boil for a minute. Drain out excess water and keep aside.
Heat 2 tablespoon oil in a pan and add the besan. Sauté for few seconds.
Now add turmeric powder, red chili powder and coriander powder and fry on low heat for 2 mintues. The moment you can smell the aroma switch off the gas.
Add lemon juice, salt and 1 -2 tablespoon of water to make the stuffing.
Heat remaining oil and fry the stuffed bittergourd on low heat until it turns light brown.
Sprinkle chaat masala and serve with rice and dal.