Bharwan Shimla Mirch (stuffed Capsicum With Dry Masala)
It is a recipe, which I learnt from my Masi (Mother's sister). She likes spicy food and I have been a great admirer of her fusion food. I used to wonder her recipes taste so different from my mother's? How she simply used to add some chopped greens to dal or stuff it inside the chappati to create a new recipe? Every time, I visit her house, I know she will offer something new. The best part is she makes all innovation in her daily meal and thus it is easier to follow. This recipe of stuffed capsicum was also a product of one of her experiments. My Masi is vegetarian, so she loves, winter as she can get lot of fresh vegetables and lot of greens. Sometimes she gets so many of them, that she starts looking for a place in her refrigerator to keep them….. Once she got a Kilo of Capsicum and she was really confused what to do with them? she opened her Magical masala box and cooked this recipe. You can also try it and let me know if you liked it.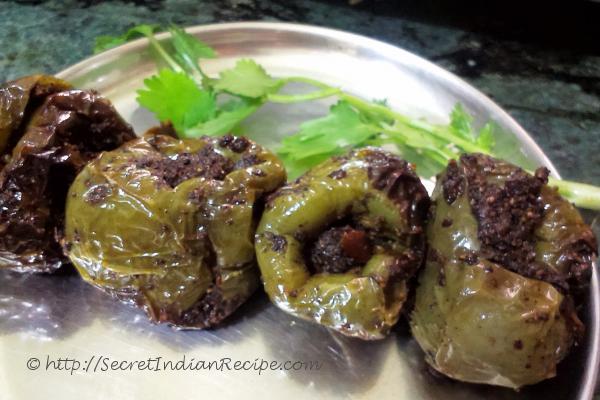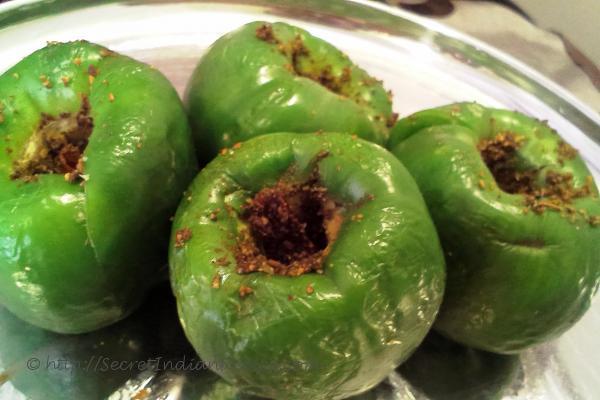 Ingredients:
Shimla Mirch (Capsicum) – 4(medium sized)
Saunf (Fennel seeds) – 2 tablespoon
Meethi (Fenugreek seeds) – 1/4 tablespoon
Kallonji (Nigella seeds) – 1/4 tablespoon
Red chillies – 2 pieces
Ajwain (Carom seeds) – a pinch
Hing (asafoetida) – a pinch
Amchur powder (Dry mango powder) – ½ Tablespoon
Mustard oil – 3-4 Tablespoon
Salt – As per your taste
Directions:
Take each capsicum and carefully remove the crown and pull out the seeds. This is to make space for filing the masala.
To prepare the masala stuffing, heat a pan on the gas on low flame. Add Saunf, Meethi, Kallonji , Ajwain and Red chilies and roast for about 10 seconds
After roasting, immediately put them into grinder and grind into powder. Mix Hing,Amchur powder (Dry Mango Powder) and salt..... be a little careful about adding salt as Amchur powder has salt and we will sprinkle some salt at the end over the stuffed capsicums.
Take each Capsicum and fill the masala stuffing inside.
Once all the Capsicums have been stuffed, heat oil in a pan over medium flame and place the capsicums carefully. Put a cover and cook on low flame for 10 mintues.
Remove the cover and flip each capsicum carefully on the other side to cook it from all sides. Again put the cover and cook for 10-12 mintues.
Check if the Capsicums are done. Drain out the excess oil and sprinkle some salt.
Serve hot with dal and rice.