Bhatura Recipe
This Punjabi dish is quite common in any eatery and is everybody's favourite.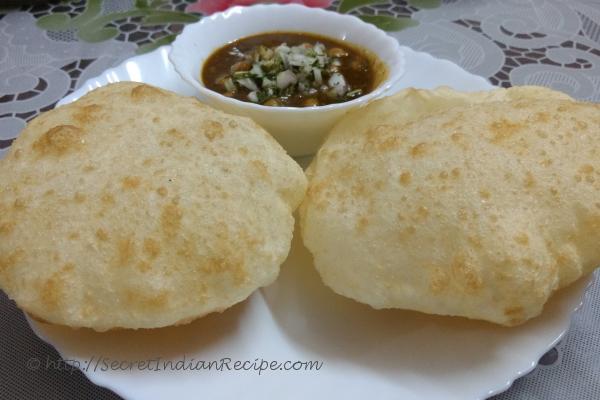 Ingredients:
Maida( Refined Flour) - 3 cup
Sooji/Semolina - 1/4 cup
Eno - 1/2 Tsp
Baking Soda - 1/2 Tsp
Curd - 1/2 cup
Water - 3/4 cup
Directions:
Take 3 cup Maida in a bowl.
Add 1/4 cup Sooji/Semolina to it and mix well.
Add 1/2 Tsp Eno and 1/2 Tsp Baking Soda in it, and mix everything well.
Add 1/2 cup of curd to the mixture. Pour around 3/4 cup of water in the bowl (or as required to knead the dough).
Combine everything and make a dough. Apply little oil on your palm and pat the dough gently. Cover the bowl with a lid and keep it aside for about 4 hours.
Increase in the dough size indicates that it has risen well and is ready to use. At this point carve balls out of it. Just apply little oil on the palms and shape the balls.
Heat oil in a pan and side by side start rolling your bhatura. For this, sprinkle 3-4 drops of oil on the rolling board and with the help of rolling pin, carve the shape of bhatura as required.
Once oil is hot, check it by dropping a small piece of maida in it. Then slide the rolled bhatura in the oil.
Press the bhatura gently so that it puffs up nicely. Flip the puffed bhatura after it starts turning golden brown from the lower side.
Press the bhatura gently for 5-6 seconds. Once the flipped side too turns golden brown, take it out. Since we have added sooji to the maida, these bhaturas do not soak excess oil and become crispy too.
Serve hot bhaturas with Chole and Onion salad & enjoy this homemade Punjabi Delicacy. :)
Footnotes:
The time for keeping the dough for rising is not included in the preparation & cooking time.