Bhel Puri
Bhel puri is famous kolkata street food. The main ingredient is moori (puffed rice) , to which various sauces are added to make it sweet, sour and spicy.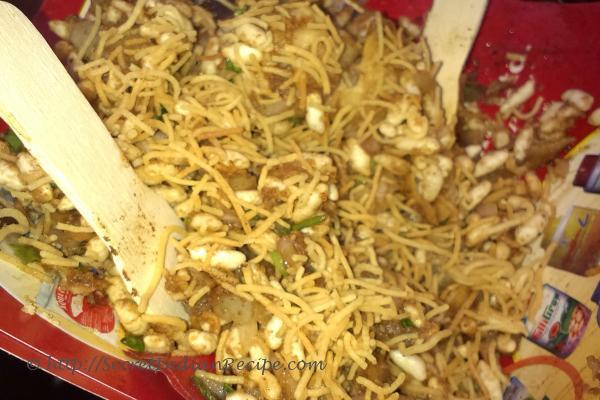 Ingredients:
Moori (Puffed rice) - 2 cups
Boiled potato - 1 piece
Onion - 1/2
Green coriander leaves - 2 tablespoon
Sev ( thin gramflour bhujis) - 4 tablespoon
Tomato - 1/2
Green chili - 1 (chopped)
Tomato sauce - 2 tablespoon
Tamarind sauce - 1 tablespoon
Salt -to taste
Mustard oil - 1/2 tablespoon
Directions:
Chop boiled potato,onion and tomato in small pieces.
Take a large bowl and pour moori. Add chopped potato, onion, tomato, green chilli, coriander leaves,mustard oil, salt,tomato sauce and tamarind sauce and mix well.
Garnish with sev and Serve immediately.
Footnotes:
Do not keep the bhel as the moori will turn soggy.