Bhel Puri Pulao
This cuisine is a mixture of our famous savoury Indian snack bhel puri a culmination of a chaat with the pulav, a rich dish which is made by putting in various vegetables and spices (We can also add chicken if preferred) It can be served with Corn/Chicken soup (Optional) and various chutneys (Spicy/Sweet) according to our preferences.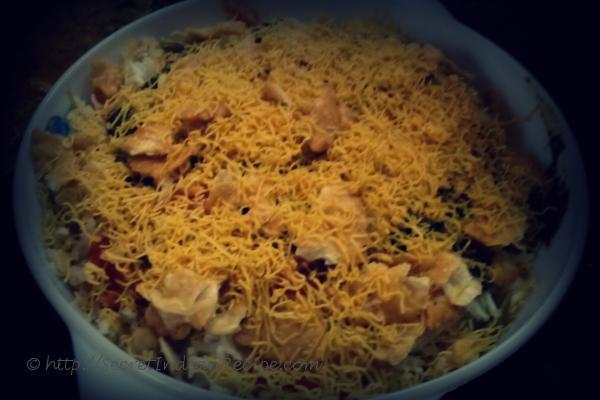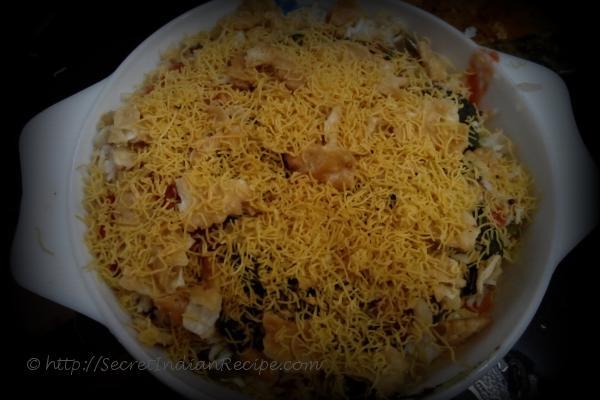 Ingredients:
For the Pulav : Capsicum – 2, Cabbage – ½, Carrot – 2, Green pea – ½ cup, Boiled potatoes – 3 , Chicken boneless – ½ Kilo, Onion -1, Ginger – 5-6 strands, Garlic – 7-8 pcs, Black pepper 1 sp, salt.
Red Chutney : Tamotoes – 5-6 , Tomato Kepchup – 4-5 spoons, Jaggery - 1tsp , Red chili Powder – 1tsp
Green Chutney : Coriander 1 cup , Pudina 1/2 cup , Green Chillies 5 -6 , fennel seed 1/2 tsp , salt.
Flat Puri and Nylon Sev for garnishing.
Directions:
Tomato Chutney : Blanch the Tomatoes and make a puree of it. Take a pan, add water and add the puree and let it boil and thicken. Add tomato ketchup, jaggery and red chili powder and salt to taste. Taste and texture should be like khatta-meetha type and consistency should be like Manchurian gravy.
Green Chutney : Chop the coriander and pudina and blend it with all the other ingredients. Green chutney must be spicy n when serving consistency more watery than normal.
Boil the chicken (add ginger and salt) until it's cooked and remove the chicken pieces and shred it. Sprinkle a little bit of salt and black pepper on it.Keep the chicken stock aside.
Half cook plain basmati rice in the chicken stock and keep it aside.
Take a pan add oil and sauté all the vegetables chopped for few minutes and then add the shredded chicken, add salt and black pepper for seasoning. Keep the mixture aside.
Now take another pan, Add oil 2 spoon, Add chopped garlic, and one chopped onion, sauté it and add the mixture of vegetables and chicken. Add salt and add the rice into it.Cook till the rice is cooked and pulao is ready.
Serving : Take a Big bowl, first put the pulav in it and then pour the green chutney, tamoto chutney and add crushed sev puri, Nylon Sev, Kothmir on it while serving. Simple to cook Bhel Puri Pulav is a fun and filling main course inspired from the famous Mumbai street food.