Bhendi Ani Sungtachi Kodi (prawn And Lady Finger Curry)
This is one of my favourite curries. I know I say that about all my curries, but this one reminds me of my mum especially. When she would ask about what each of us wanted to eat, this was my answer almost every time. When she would deign to make it (or more likely, when she had fresh Prawns and Ladyfinger in the house at the same time) I would not be able to concentrate on anything when my mum was cooking this because the smell would distract me so much! Anyway, when I make it, it does not have any such effect on my little miss. You win some; you lose some I guess :)
This curry is especially easy to make. Grind a Masala, some ladyfinger pieces and prawns are all you need. It makes a very rich curry that is so good with rice. Yummy! I like to serve it with Karela chips sometimes, or even a little mango pickle. I hope you try this recipe out and you enjoy it as much as I do :)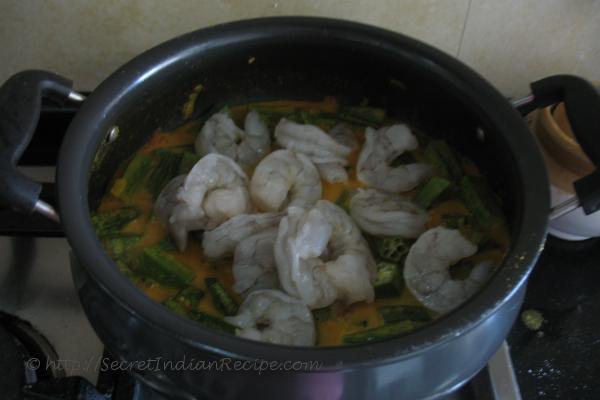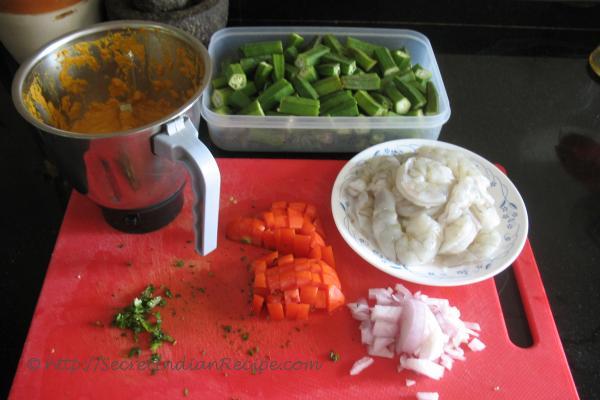 Ingredients:
1/2 kg Prawns, Cleaned and Deveined
1/2 kg Ladyfingers, washed and chopped into one inch bits
1 Large Tomato, medium dice
1 Large Onion, Chopped
For the Masala:
2 tsp Chilly Powder
1 tsp Turmeric Powder (Haldi)
1/2 tsp Peppercorns
1/2 tsp Cumin
10 Garlic Cloves
1/2 cup scraped Coconut
a few leaves of Coriander for garnish
1/2 cup Coconut Milk
Directions:
Grind all the ingredients for the masala to a smooth paste in the mixer.
Fry off the onion in 2 tbsp oil till translucent. Add the masala and fry off till the raw smell goes.
Add the tomatoes and fry till they turn to mush. Add 1/2 cup water and 1/2 cup coconut milk and bring the curry to a boil.
Add the lady finger and prawns and bring it to a boil again. Reduce the heat and simmer for five minutes till the prawns are cooked and the lady fingers are soft but not mushy. Garnish with Coriander leaves.
Eat hot with rice and pickle. Enjoy!