Bhetki Jhol (seabass Fish Curry)
Bhetki is a popular fish in kolkata. It is known as barramundi or seabass in English. The fish has a sweet flavor and tastes great in curries. My husband is a great cook and this is his bhetki jhol recipe.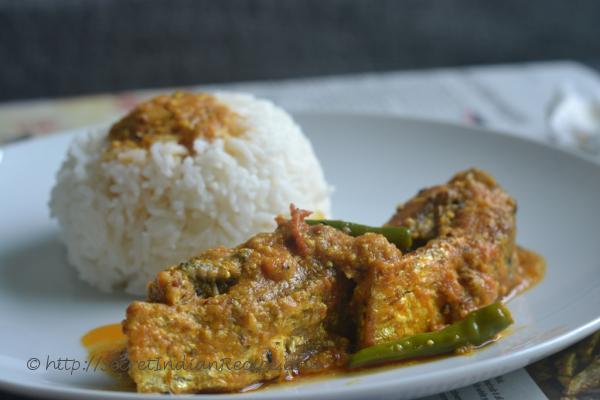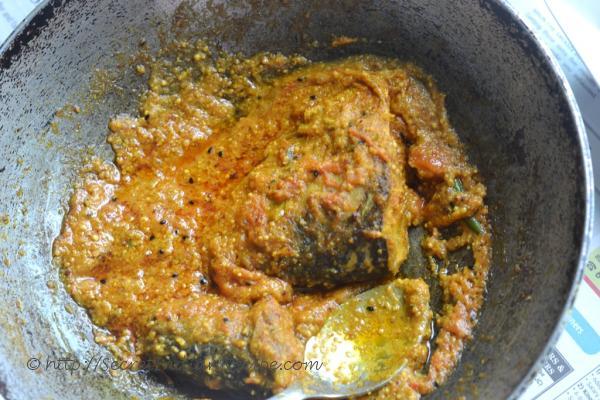 Ingredients:
Seabass fish (Bhetki) : 1 Med/big sized cut into 5pcs
Yellow mustard seeds : 1 tbsp
Onion Seeds (kalonji ): 1/2 tsp
Green chilies : 3 nos
Thinly Sliced Onions: 2
Poppy Seeds (poshta dana) 1/2 Tsp
Tomato : 1 big
Mustard oil: 4 tbsp
Salt to taste
Mix of salt and turmeric to rub on fish
Tumeric: 3/4 tsp
Directions:
Begin by soaking the mustard seeds and poppy seeds in water. They need at least 10 mins of soaking time.
Meanwhile wash and clean the fish. Rub the fish with salt and turmeric
In a kadhai heat mustard oil and fry the fish pcs 2-3 at a time. Cook for 2 mins and set aside. Turn off the flame
To make the paste, take a mixer/blender, add soaked mustard seeds, poppy seeds, 1/2 tsp of salt, 1 green chili and a little water just to aid in blending smoothly. Blend the ingredients till smooth
Heat the pan again, in the same oil add kalonji, reamaining green chilies sliced onions and 3/4 tsp salt and saute for 2 mins.
Add turmeric and tomatoes and 1/2 cup of water, cover and cook for 10 mins
Now add the blended masala, mix and place the fish pcs in the kadhai/pot one by one.
Give it a gentle mix, cover and cook for 3 to 5 mins more
That's it your Bhetki Jhol is ready to serve! :)
Serve hot with roti or rice