Bhindi Do Pyaza (okra Cooked With Onions)
Do pyaza or Dopiaza style of cooking is popular punjabi style of cooking curries (dry and gravy). In this style vegetables or meat is cooked with large amount of onions and the dish is also garnished with onions. As onions are added at two different stages,therefore the term Do pyaza. Bhindi Do pyaza is a very popular restaurant dish, good North Indian restaurants will always have bhindi do pyaza on their menu. Here is my version of this dish!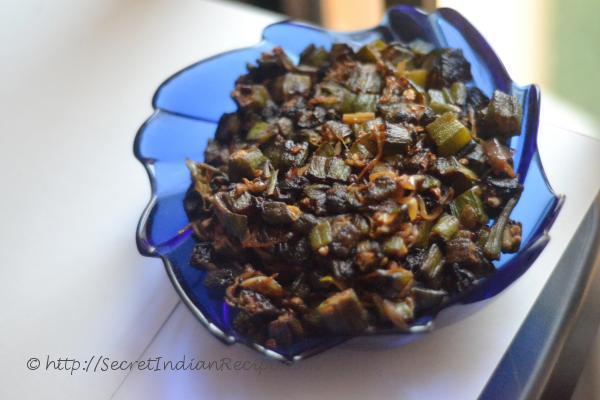 Ingredients:
Bhindi (Lady fingers) : 2 Cups
Thinly Sliced onions: 1 Cup
Kalonji (nigella seeds): 1/2 Tsp
Jeera: 1 Tsp
Green chilies slit: 2 nos
Beaten Curd: 3 Tbsp
Haldi (Turmeric): 1/2 Tsp
Ginger grated: 1 Tsp
Oil: 4 tbsp (for cooking)
Oil : 3 tbsp (for frying onions)
Salt to taste
Directions:
Heat 3 tbsp oil for deep frying in kadhai or pan. When hot, add handful on sliced onions saute them till golden brown. Remove from heat and keep aside
Now add 4 tbsp oil to the remaining oil in the pan. When hot, add jeera and kalongi. Wait till the seeds start to splutter
Add in the onions, chilies and 2 pinches of salt- saute for a min. Add turmeric, grated ginger and cook till onions are soft and tender
Now add the chopped bhindi, some more salt as per taste and mix well. Cook open (without a lid) on medium heat for 15 mins ot till bhindi is tender and fully cooked.
Add the beaten curd (you may also add a pinch of sugar) mix well and cook for 5 mins more or till the curd completely dries out
Turn off the heat and add the golden onions which were fried in the begining
Serve hot with chapati or paratha
Footnotes:
Washing the Bhindi: wash bhindi under running water pat dry and keep aside for at least an hour. It is easy to handle okra which is completely dry.
You may add grated ginger garlic instead of just ginger
The bhindi can be cut a little larger in pieces, I prefer chopping small pieces as it helps cook faster