Bhog Khichiri
Bhog khichiri is basically a Bengali cuisine with is ritually made during festivals like 'Durga puja', Kali puja and 'Dol'. It is rich in protein, carbohydrates as well as fibre.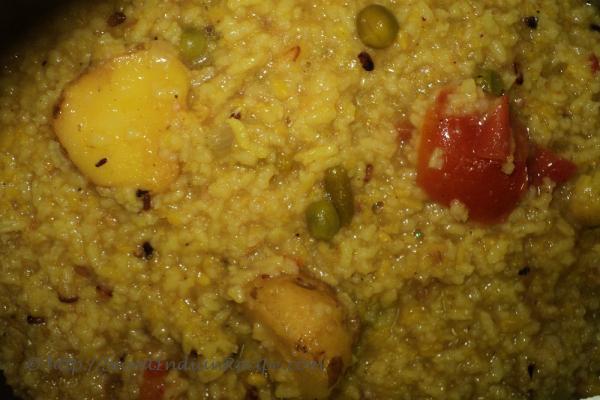 Ingredients:
Rice 200 grams (washed and drained)
Moong Dal 200 grams washed and drained)
Parval 200 grams (scraved and halved)
Potato 150 grams (peeled and quatered)
Red chillies 4 pieces
Bay leaves 4 leaves
Cumin Seeds 1 tablespoon
Turmeric powder 1 tablespoon
Ginger Paste 1 tabespoon
Coriander powder ½ tablespoon
Chilli powder ½ tablespoon
Cumin powder 1 and ½ tablespoon
Gram masala powder 1 tablespoon
Water 6 cups
Ghee 3 tablespoon
Salt 1 and ½ tablespoon
Sugar ½ tablespoon
Directions:
Mix together turmeric, chilli, coriander and cumin powder and gingerpaste along with some water till it become a smooth masala paste.
In an empty pan pour the moong dal and stir it over low flame for 10 mintues till a aroma stars coming out. The process is called dry fry.
In a pressure cooker put 2 tablespoon Ghee and add Cumin seeds, bay leaves then add masala paste and fry for 2 mintues.
Afterwards add the vegetables. Saute for 2 mintues and then add the moong dal, Rice, salt, sugar and about 600 milliliters of water and pressure-cook for 3 mintues.
In another pan take rest of the Ghee and add whole red chillies, Garam masala and cumin seeds. Sitr it for 2 seconds and then pour it over the 'Khichiri '. Bhog Khichiri is ready.