Bhogichi Bhaji
Prepared on Bhogi , a day prior to Makar Sankranti. All freshly grown vegetables and pulses are used alongwith sesame and groundnut. Natural oils from these help smoothen your dry skin .
It's served with Bajara roti and garlic chutney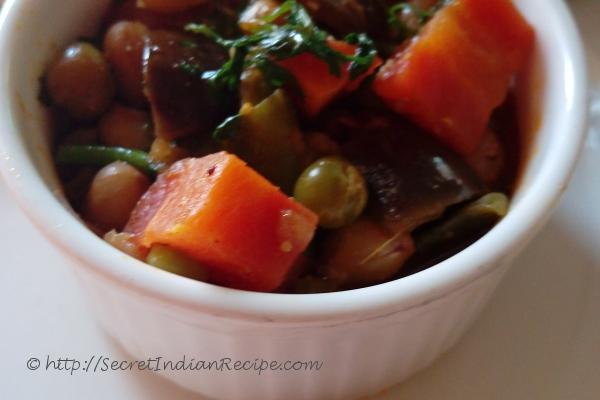 Ingredients:
1 bowl soaked ground nuts
1.1/2bowl freshly grown green chickpea
1 bowl fresh green peas
3 to 4 brinjals cut into pieces
2 to 3 medium sized carrots cut into pieces
1.1/2 bowl french bean cut into 1/2" pieces
1.1/2 bowl green beans cut into 1/2" pieces
2 onions and 2 tomatoes finely chopped
3 tea spoon each of roasted n ground seasame and grounnut
2 tea spoon ginger garlic paste
1 tea spoon turmeric powder
1/2 tea spoon mustard, 1/2 tea spoon asafoetida
2 tea spoon jaggery
2 tea spoon red chilli powder
2 tea spoon garam masala
3-4 table spoon oil
10-12 curry leaves
Salt and Chopped Corriander leaves for seasoning
Directions:
Heat oil in pressure cooker. Put oil mustard seeds, turmeric, asafoetida, curry leaves. Add chopped onion and ginger garlic paste. Add chilli powder once onion is slightly brown. Add chopped tomatoes.
When tomatoes are done add garam masala . Put groundnuts / peas and all the vegetables one after another. Stir well. Add 3 bowls of water or 1" above the vegetables. Add jaggery, sesame n groundnut paste and salt to taste.
Pressure cook for 15-20 minutes ( 2 whistles of pressure cooker) Garnish with coriander leaves