Bhune Tamatar Ki Chutney (roasted Tomato Relish)
A quick fix when there are limited veggie options. The term "Bhuna" literally means "to roast" and that is practically the only cooking required to make this chutney. It has an amazing smokey flavor and aroma to it. It goes will with regular roti-sabzi or dal-chawal. Usually chutneys are a side dip but this particular relish tastes so awesome with roti that I serve this as an additional sabzi rather than a side-dip. I learnt this recipe from my Mom-In law and I love it.
This recipe requires only five ingredients, Tomatoes, garlic, coriander, mustard oil and green chili and of course a pinch of salt. Plus it's an easy dish to prepare; the process is similar to that of baingan ka bharta.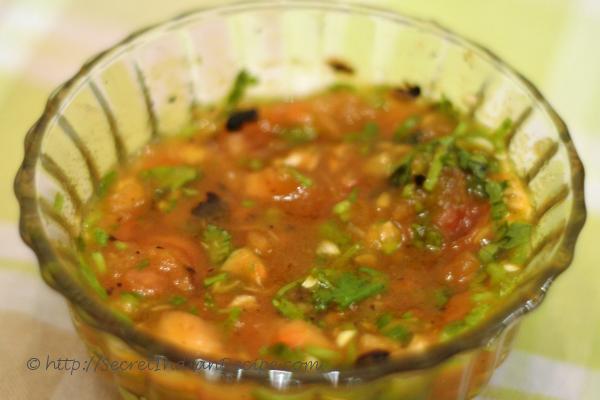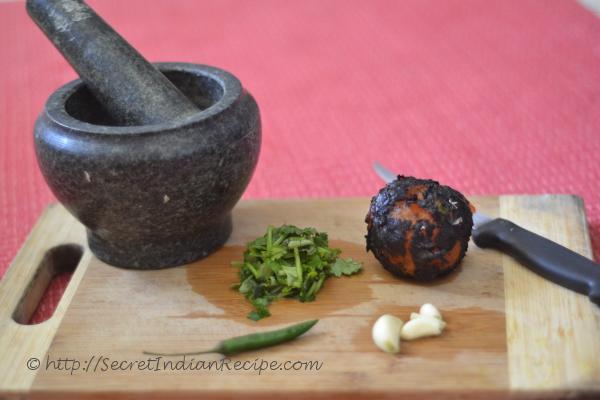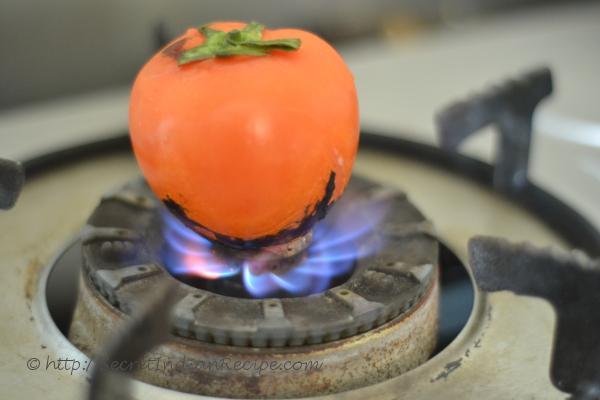 Ingredients:
Tomato: 1
Garlic : 2 pods
Green Chili: 1
Coriander: 1/4 bunch
Salt to taste
Mustard Oil: 1 tbsp
Directions:
Wash the tomato clean and pat dry. Switch on the flame and place the tomato on stove top on open flame directly.
If you have a portable BBQ or charcoal griller, cook the tomato on hot charcoal directly
Keep turning the sides of tomato every 1 min. The total cooking time will not be more that 3-4 mins
Finely chop garlic, chilies and coriander. When the tomato is cooked with the help of two spoons place it on plate or in a bowl
Let it cool for a few minutes. When it is cool enough to handle with hands, start peeling off the burnt tomato skin. many people like to leave the skin on and mash the tomato with it. I prefer taking it off
Now mash the peeled tomato and add all coriander, garlic and chili. Mix well. Add salt to taste and mustard oil
Mast again with the help of back of the spoon or fork. Serve at room temperature along with any Indian meal.
Footnotes:
For a more smokey flavor you may also smoke the garlic for a minute and then finely chop it