Bhurji Lemon Biryani (cottage Cheese Mash Lemon Layered Rice)
Basically, I love Biryani's and keep on experimenting with the biryani recipies. One fine day I was out-of-stock and had nothing but two of my favourite ingredients ie paneer and rice and lemons in my pantry. After a lot of pondering , finally an idea twinkled my eyes. Below I have presentated that very idea to you all and I hope it twinkles the eyes of your family/ guests and ofcourse yourself!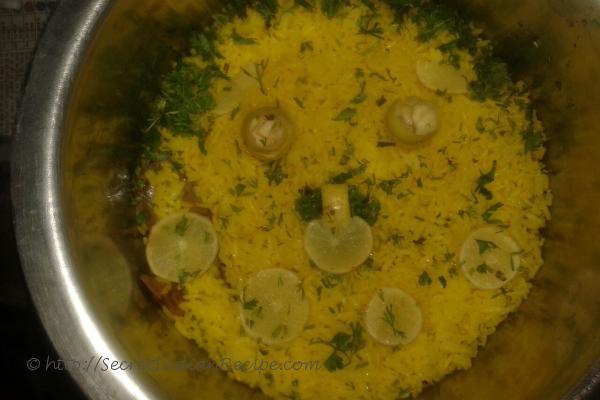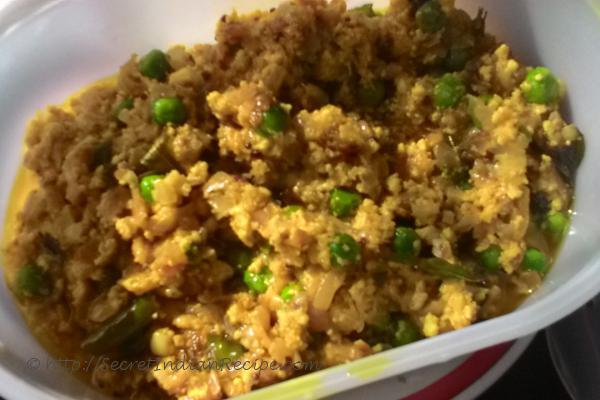 Ingredients:
Boiled rice - 400 gms
Onion- 3 (Medium to Large)
Tomato- 3
Garam masala- 3 tsp
Biryani masala- 3 tsp
Turmeric- 2 tsp
Ginger- garlic paste- 2 tsp
Green chillies- 3
Red chilly powder- 3tsp
Paneer- 400 gms
Oil- 3 tbsp
Ghee/ Butter - 3 tbsp
Salt- to taste
Cinnamon- 1/2 pcs
Cardamom- 1pc
Star anise- 1pc
Cloves- 2-3
For Garnish:
Fried Onions
Chopped coriander
Cashews- a few
Directions:
Let's make the bhruji: Heat oil in a wok. Add some of the finely chopped onions, ginger garlic paste.Saute till onions are brown.
Add half of the turmeric, red chilly powder, garam masala, biryani masala, cover with lid and let it cook for 2-3 minutes.
Now add the crumbled paneer, sqeeze a bit of lemon, salt to taste, half of the chopped coriander. Further cook for 3-4 minutes.
Let's prepare the rice:
Heat oil in a wok, add mustard seeds, star anise, cinnamon, cardamom, cloves. Immediately add in the rice and salt to taste.
Squeeze the remaining lemons, add some chopped coriander, salt to taste and mix well. Cover and cook only for a minute on low flame.
Time to layer assemble: Fry some onions until dark brown. In a huge vessel, at the bottom place some of the fried onions.
Next comes the bhurji we prepared, some cashews, top it with a layer of prepared rice. Pour some ghee/ butter. Top with chopped coriander and fried onions.
Place another layer of bhurji topped with cashews. Another layer of rice topped with ghee/butter, coriander and fried onions.
Repeat the layering procedure until you finish your bhurji and rice.
The top layer should always be that of rice topped with fired onions, lemons wedges, coriander.
Ready to serve.