Bhute Ke Pakore (corn Fritters)
Do you remember the 'Dhara Oil' ad? Where a small girls tell her grandfather that she is leaving her house as everybody scolds her. Then her grandfather says, ok, but mummy is making 'Jalebi'. The little girl smiles and says ' Jalebi mmmmmm' and she goes back to her house. My Grandfather used to copy this ad whenever I used to be upset or angry. He used to say, ' Mummy ne aaj pakore banaye hain'. He knew I do not like sweets much but I like munching on salty snacks. Later I came to know the secret of my mother's crispy pakoras. She never used besan but she soaks channa dal or moong dal in water and then grinds it to make the batter. And as she grinds it in a grinder, there is no need to whisk the batter to make fluffy pakoras. Today I am sharing, one of my favourite, Bhute or corn ke pakore.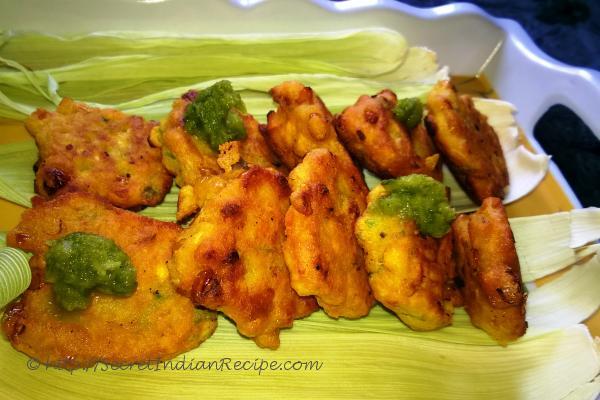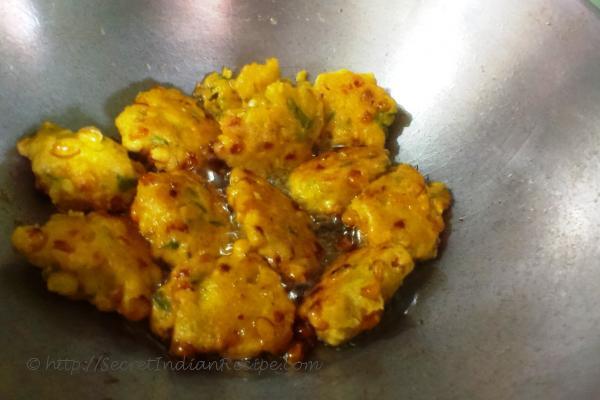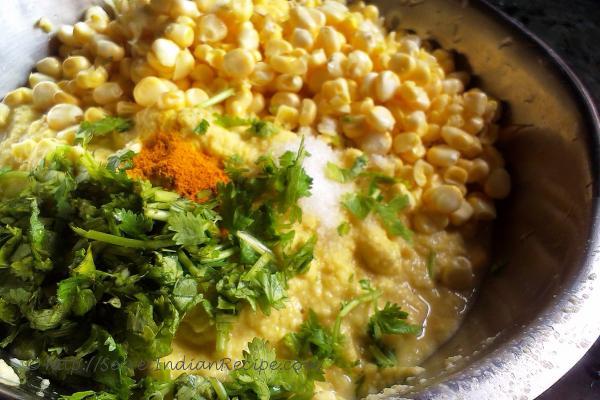 Ingredients:
Bhute ke dane ( Corn) – 1 cup
Chana dal (Split Bengal gram) – 1 cup (Soaked in water for 4 hours)
Garlic cloves – 6-7
Green chilies – 2-3
Turmeric powder – ½ tablespoon
Green Coriander Leaves – ½ cup chopped
Salt to taste
Oil for frying the pakoras (approx ½ cup)
Maida – 1-2 tablespoon
Green Chutney to serve
Directions:
Wash the soaked Channa dal with water twice nad then transfer it in the grinder. Add garlic cloves, green chillies and 4-5 spoons of water and grind into a smooth but thick batter. It should not be watery as it needs to hold the corn.
Pour the batter in a bowl and then add the turmeric powder, salt, maida, chopped coriander leaves and corn. Mix it properly by your hands. Check the seasoning and then keep it aside.
Now heat oil in a pan on medium flame. Once the oil is heated, take spoon full of corn batter and carefully drop in hot oil. Fry the pakoras on medium heat till they become golden brown. This way you can make more pakoras.
Serve hot with green chutney.
Footnotes:
Make it just in time. Once cooled, it does not taste so good.