Bhutte Ka Halwa (corn Kernel Pudding)
I recently had a lunch party with my co-guide at Rajdhani. It feels nice to step out of your native flavours once in a while and to learn from others. I thoroughly enjoyed the veg thali and the aamras and muthia was fabulous. While I was about to wash my hands a guy came running with this piping hot halwa. He said it was corn ka halwa. I was already stuffed with jalebis and rabri but then I thought I would give it a try. My guide who never ate sweets fell in love with this halwa and had more than 2 spoons. We then tried figuring out how this halwa was made. After a lot of research I have reached the conclusion that it could be this way. So here's my version of bhutte ka halwa.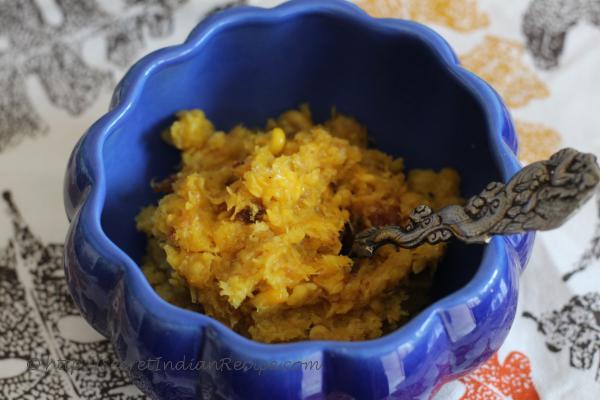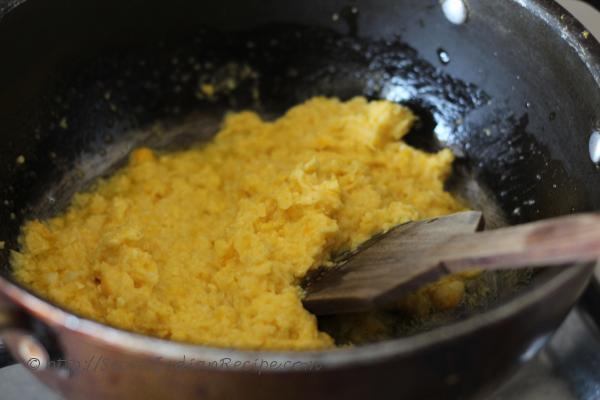 Ingredients:
Corn kernels- 2 cups
Milk- 2 cups
Ghee- 5 tbsp
Sugar- 2 cups
Cardamom powder- 1 tsp
Cashew nuts- 50g
Raisins- 6-10
Directions:
Wash and boil the corn kernels. Pressure cooking with 2 cups of water up to 2 whistles will make the process easier.
The next step would be to process the corn in a food processor or mixer grinder. Once the corn cools down, process the corn finely.
Heat ghee in a pan and fry the cashew nuts and raisins till they are golden yellow. Drain the fried nuts and raisins on a plate with a paper towel.
In the same pan now start cooking the ground corn paste. Cook till the corn paste is golden brown and add the milk. Bring the halwa to boil and continue stirring.
Add the sugar and powdered cardamom. Stir to avoid lumps till the halwa starts to leave the sides of the pan and starts forming a giant lump.
Add the nuts and raisins at this point and take the halwa off the flame. Serve hot.